Want to create irresistible blog posts? But not sure if you're doing it right? Well never mind. Because writing challenges hit all bloggers in the beginning. And later in their blogging journey as well.
Yet there are time tested rules for improving just that.
Before you aspire to create viral posts, it's best to remember that readers online just don't have time. Neither patience.
Instead, on average, you've got just under 10 seconds to capture their attention.
And do you know?…….
According to a popular online statistic, page rankings plummet to zero when readers spend less than 10 seconds on your post.
Usually, readers will skim your post. Perhaps they'll give you a once over initially.
Maybe they'll skim over your subheadings.
And based on that skimming, decide to stay.
Or leave.
Time taken? Anything from 3 to 10 seconds.
And there goes your "well crafted" post!
Disheartening?  
Well, no big deal. That's been happening forever to most bloggers. And continues to. But don't throw that towel in too soon.
There is a ray of hope. It's a tested method that's worked for me.
Want to know?
Lets dive right in.
1. Firstly Understand Your Audience
Now when you start blogging, remember you're creating compelling, irresistible blog posts for someone else.
Not yourself.
That person is your reader.
That's why it's vital to know what interests them, what they like most.
And to do that, it's best to keep the guesswork out. That's done by delving into some research and study.
It appears tedious. And time-consuming. But it's not really.
The encouraging part is that there are plenty of resources for research.
A lot of bloggers get enormous inputs from "competitor marketing monitoring".
Sounds geeky.
But it is simply studying what your readers are interested in. What they're responding to, etc. This tells you their interests.
You come to know their burning questions.
Here I'll add another consolation. That it is very likely you know much more than your readers.
Don't give up on yourself. More often than not, you know more than you admit to yourself too!
Perhaps you can quench their thirst.
Perhaps you have an original perspective to offer somewhere there.
Who knows?  With your hidden knowledge, you may emerge as an authority of sorts. You end up offering them answers and greater value for their queries.
You may not know this. But scores of successful bloggers started out underestimating themselves initially.
Interestingly a lot depends on how well you understand what your readers are doing on the competitor's site.
You only need to slowly build a 'competitor analysis summary'.
But how do you do that?
Sounds difficult. But it really isn't.
There are a host of tools to help you along, like Semrush, Quora, Buzzsumo, Google Alerts.
I'm not delving into the entire platter here. That's a story for another day.
Only for example's sake let's take  Buzzsumo and Google Alerts.
With  Buzzsumo Alerts, you can manage most competitor monitoring. Their search engine focuses on content, so you receive alerts on searches that interest you most. For example inputs from high traffic blogs in your niche.
Google Alerts is comparatively simple. But it eases your working because you can get alerts for your focussed interest. In fact, you can set alerts for various topics. You can also set periodicity for your alerts, whether weekly or daily.
Again no delving into details yet. I'll leave that for another time.
2. Create Irresistible Headlines
Now before you get on to anything else, tackle your headline first.
Draft, redraft and re-redraft that headline.
Experts recommended that you should write at least 7 headlines before you finally settle for one.
Because if you don't have a compelling headline then no one's reading your blog.
Period.
Here's the deal.
In the US alone there are about 31 million bloggers.
And according to an online survey, only a handful (25%) bloggers write out 7+ headlines for their articles.
Its important to remember that lukewarm headlines won't serve you.
That's because we're shallow as human beings. And we're prone to judging a post by its title.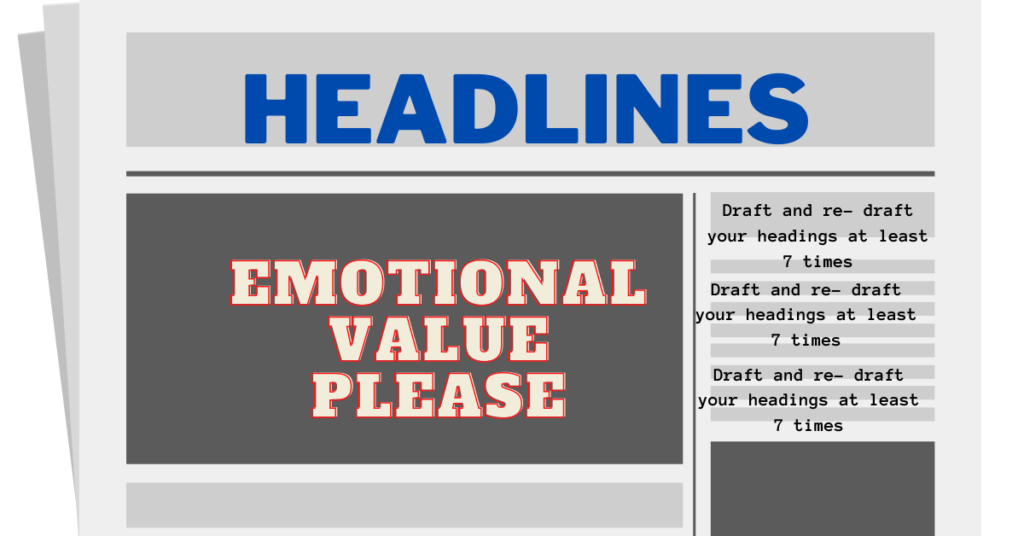 The content in the post matters only later.
For great headlines, therefore, you need 'headline analyzer tools'. They offer a fascinating variety of solutions
For one, they help you enhance the emotional value of a headline.
For example, Advance Marketing Institute analyses your headline's 'EMV level'. EMV is the emotional marketing value. After you enter your headline into the tab and press enter, your headline receives a percentage score. That is its EMV.
Similarly, you have tools that help you find varying options for the same headline. The more the better.
Some other handy tools are:-
CoSchedule Headline Analyzer (best free headline analyzer)
OptinMonster's Headline Analyser
Sharethrough Headline Analyzer
Well, there is a mountain of information on headlines, but we also must keep our subheads in focus.
That's what we're doing next.
3. Use Subheadings To Break Content
Whether you admit it or not, we all have become expert scanners of online content. I do it too.
Usually, while reading a book you may stay mesmerized for hours with page after page of copious text.
Reading a blog post is different though. Here, a wall of text is daunting. And repelling.
Your reflex is to turn and run.
Far away from that blog.
But when you see a 'shapely' blog post, you tend to linger. And fortunately, read.
Formatting gives a post that shapeliness.
And this formatting happens when you like a gardener, 'plant' some great subheadings.
Subheadings break up your content and add that necessary scan-ability to your post.
Besides, if enthused by the content, subheads also compel the reader to slow down. Then they actually READ your content.