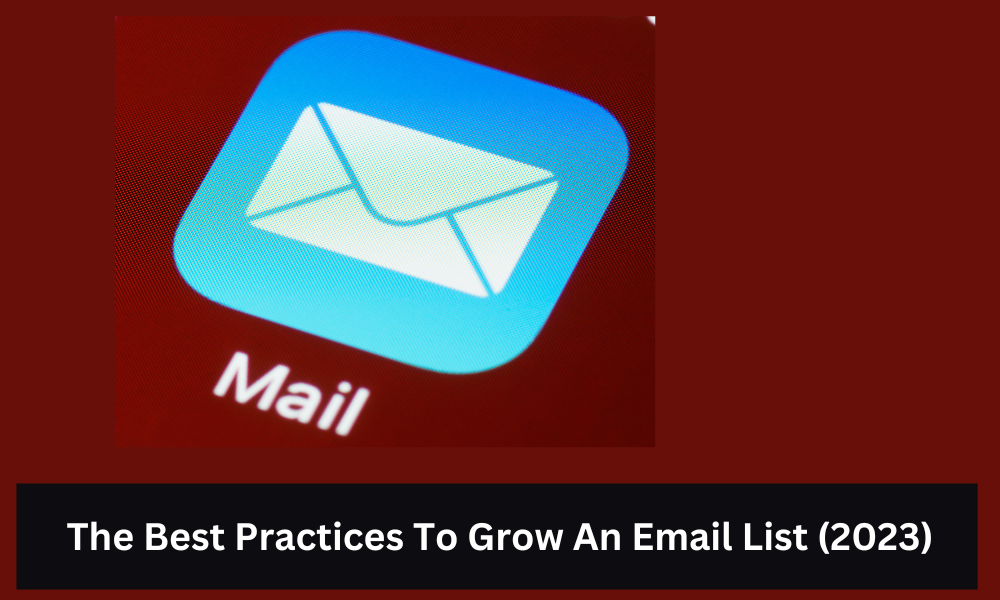 One of the best practices to grow an email list by a modern business is still sending marketing emails to clients.
Email List building is the process of gathering email addresses from website users or visitors.
This is done to expand the subscriber database and strengthen current and upcoming commercial transactions with clients.
According to known figures, approximately 4 billion people use email every day. And as per Statista.com, by 2025 this figure is projected to increase to 4.6 billion.
Eventually what's also emerging is that you cannot effectively market to, or engage with your target audience without leads or email addresses.
More importantly, you want to get in front of the correct crowd.
What's the need for best practices to grow an email list?
It is a waste of time, and money to have an email list of people who will never purchase anything from you. As a blogger, you must be sure to regularly update your email lists with new contacts. Although buying emails is a possibility, it's not always the smartest course of action. Hence the need for growing your own email list.
Email Onboarding Sequence
A series of emails is called an onboarding email sequence. They're mostly designed to help users who have already shown interest in your business or product.
The sequence consists of a series of emails that are programmed to be sent automatically at particular stages of the user's onboarding process.
Your email onboarding sequence is the first and most important step in developing a better email list.
Onboarding sequences also cover the transition from a new subscriber to a devoted customer. These sequences also direct recipients to their subsequent email flow.
Here are some excellent strategies for improving your email onboarding process.
---
1. Put Benefits Before Features
Show new subscribers the advantages you mentioned in the opt-in when they first sign up.
Avoid simply listing the characteristics of your products. Instead, genuinely add valuable information.
Arrange all of your benefits in order of their value to your potential consumers.
The basic distinction between a feature and a benefit is how something is expressed.
A feature, for example, is fundamentally more complex than a benefit.
You must describe how it functions, how users will utilize it, and how it will affect people's lives.
To emphasize the advantages, you could include things like:
1. You'll receive
2. Your expenses will go down.
3. You'll conserve
Here, the point to note is that when you compile your list, don't expect much in return from the customers. This unconditional value addition always tends to provide your customers immediate delight.
---
2. Confirmation Should Always Come First
To guarantee that your email will be delivered, confirmation is crucial.
Subscribers frequently enter inaccurate data. Therefore a double-opt-in form that requires the reader to confirm their address reduces the chances of this happening.
Confirmation is a fantastic method to further pique customer curiosity. It also helps personalize their welcome to your site later.
---
3. Implement Call-To-Actions (CTA) To Reach Your Objectives
Show and make clear to your subscribers what they must do in return for all the worthwhile information you send them via email.
Every email should begin and end with a call to action.
Make sure they are precise and to the point.
The fact that call-to-actions with buttons and images convert better than those without is also significant.
On your marketing emails, add social sharing buttons and an "Email to a Friend" button.
It's usually observed that you'll be able to grow your contact list by having access to the friends, coworkers, and networks of the recipients.
Include a "Subscribe" CTA as a straightforward text-based link at the bottom of your emails. This makes it simple for the recipients of forwarded communications to join as well.
Adding a CTA button to your Facebook page that directs readers to your sign-up landing page is a smart move.
 Make sure it requires email access because it's the best way to maximize the value of this list-building strategy.
---
4. Create Both Passive And Active Reader Sequences.
By breaking up their list into smaller groups, or "segments," email marketers can send highly targeted emails using this strategy.
It basically entails breaking up the constituents on your email list into smaller units.
Based on data like interests, demographics, or preferences for goods or services, you may build groups.
It makes sense to divide subscribers into multiple contact lists when using an email marketing platform.
This enables you to deliver targeted email marketing campaigns to your contacts who have particular interests and to present them with offers and content that they will actually enjoy.
---
5. Keep It Brief And Direct
Avoid providing too much information all at once.
Instead, each email should take the reader on a unique journey while achieving a similar theme or objective.
According to studies, mobile devices are used to view about 40% of emails. So remember that when writing.
Your message should ideally be brief enough to fit on a mobile screen.
The reader won't have to scroll too far this way. Make sure to get straight to the point and keep the reader's interest.
The recommended word count to keep readers interested is between 250 words and less.
---
6. Be Jovial And Interesting
Make an effort to humanize your content. Talk to consumers as if they are your friends. They shouldn't think of themselves as merely business leads.
You should concentrate on earning their trust and demonstrating your value to them.
Embrace them on more platforms. To persuade them to participate, engage, and feel connected, you might invite them to reply to your email.
---
7. Offer Incentives As Best Practices To Grow An Email List
By offering early and attractive rewards that are in line with your call-to-action, you can further demonstrate to your new subscribers how much you value their time.
Running a viral giveaway or contest is a simple approach to gaining a lot of new followers and subscribers rapidly.
A cheap prize is sufficient to start a successful giveaway.
By entering their email address, publishing your contest on social media, or following you there, users can participate in your giveaway.
This has a snowball effect and expands your user base.
---
Related Posts
Easy Steps To Craft Powerful Email Newsletters (Beginners)
Top 5 Email Marketing Performance Indicators to Monitor
Email Unsubscribe Rate: The 7 Best Methods To Retain Subscribers
How To Create An Effective Email Marketing Sequence
---
Conclusion
In order to apply best practices to grow an email list it's important to know your target audience as a first step. Make sure you do that.
Remember people on your email list are actual humans, who live, breathe, think, feel and aspire. So do everything possible through your emails to satisfy their aspirations.
One good way to do that is to humanize your emails and add a bit of personalization. Also, walk the extra mile to satisfy your readers as to how your offered products and services will benefit them.
And as far as possible try to incentivize through your emails. Let your readers know they have something immediate to win as well as something in the long term.
Interestingly, these very simple steps have proven their worth for thousands of bloggers as the best practices to grow an email list.