Email marketing is about connecting with your audience and helping them gain value. But why only email marketing for audience connection?
Here's why.
Almost everyone nowadays has an email account. As a result, email marketing arguably has the broadest global reach. It's also an evergreen marketing strategy that's been shown to build long-term connections with subscribers who are glad to pay you to help solve their problems.
According to Mckinsey.com, email marketing is 40 times more effective in acquiring customers than social media like Facebook and Twitter, combined.
Do you see how huge this is?
So let's take a look at some easy ways of making a solid connection with the audience, using email marketing.
---
Use Email Marketing To Its Full Potential
I'm sure you understand how critical it's to employ email marketing to expand your brand. That's why I'd urge you to understand some best and easy tactics of email marketing, before starting off.
In fact, it's a  super-smart approach to engage with your audience and establish a commercial connection.
Guess why?
Well, people want to buy from you when they feel like they've connected with you because they know they can trust you.
Matter of fact, connecting with readers by email is one of the simplest methods to communicate.
You can connect with your whole mailing list. Or a specific portion of it, if you want.
 When it comes to actually composing that email, a lot of bloggers, particularly rookies, are overwhelmed.
But this is where audience research helps.
---
Know Your Audience Well For Email Marketing
Knowing your audience well is the first step toward making your emails effective. You'll benefit both your audience and yourself in numerous ways once you figure out who they are.
Yet this is the exact point where people make a huge mistake. They treat their subscribers as statistics, not as people.
But if you know your readers well here's what'll happen.
You'll know your audience's demographics. You'll treat them as real people with real issues rather than abstract numbers.
You'll have a good understanding of their problems and goals.
And you'll also know a distinct perspective to take when creating your emails.
Guess what else?
You'll be less inclined to ramble on in your emails (attempting to impress everyone).
But wait there's more to it.
When you know your audience well, you'll make a better decision about one very critical aspect. Mainly whether you should be publishing posts daily or less than daily. And this applies to every form of content creation, whether it's posting blogs, or writing emails.
---
Audience Connection Through Email Marketing
Even if you're new to internet marketing, you're probably aware that you don't send personalized emails to each subscriber.
That would take the better part of a day, if not more. And you wouldn't be able to work on anything else since your time would have been swallowed up.
What you need, instead is an email software that immediately customizes the email with the purchaser's identity before sending it to them.
---
Customize Personalised Emails and Workplace Harmony
Commercial content is important in your emails.
But.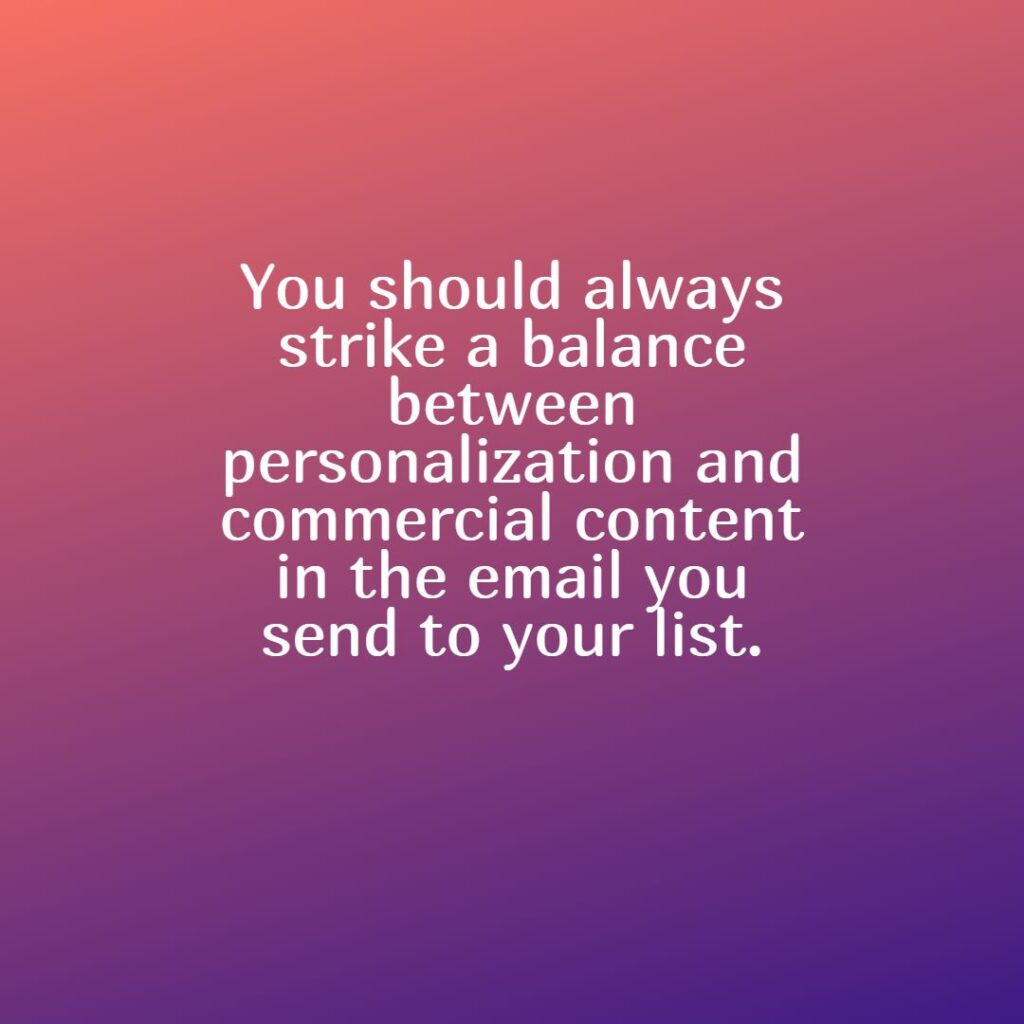 You should always strike a balance between personalization and commercial content in the email you send to your list. 
Here's the thing.
According to a report by dynamic yield , 71% of consumers admit personalized experiences influence them strongly to engage with emails.
The fact is that with personalized emails, the reader feels as though you've written them a personal message.And they become more engaged with your mail, as a result.
---
Address Customers In The Emails By Name
Nathaniel Ward, Associate Director, Online Membership Programs, The Heritage Foundation says"If you write an email like a human being would write an email, you're going to get a better response."
So what does that mean?
  Well, firstly, you should use your readers' names in the initial greeting. But then don't make the blunder of jumping straight into your business details.
That's a losing sales technique.
Instead, after you address the person by name in the greeting, tailor a few words to settle them into your content.
Like what?
 Demonstrate to them that you are human, in the opening para itself.
Relate to them something interesting about your journey.
In case you're trying out a new hobby, tell them about it.  
Confide in them if you're ok. Or, briefly tell them something about an ongoing challenge.
In short, simply be a person before them, not just a "distant" email marketer.
---
Behavioral Or Dynamic Email Content
Any email content that varies based on the subscribers' data, choices, and behaviors is referred to as behavioral or dynamic content  in email marketing.
Through behavioral emails, you respond to the customers' behaviors and feedback. They also gain higher engagement from customers.
Behavioral emails help you understand your customers' demands at various phases of the customer journey.
And they keep the customers conscious of your presence. That's because they keep receiving your emails on a frequent basis.
So what's the big benefit you gain from behavioral emails?
---
The Benefits Of Behavioural Emails 
With dynamic content, you essentially tailor certain parts of an email; that include text, visual content, or calls to action , in order to target specific recipients.
1.Smart businesses are leveraging demographic and regional data to tailor offerings to each customer.
2.To make the whole campaign more relevant and enticing to readers, you can dynamically modify entire portions of text inside your email.
3. Customising emails for a segment is crucial for a dynamic email. Promoting the latest infant care solutions to new mom subscribers while showing anti-aging cosmetics to older lady subscribers is a good example.
4. The most important gain is that by sending emails in response to a client's action, you keep track of where they are in the customer journey.
5.Clients who have gone off the radar can also be re-engaged via behavior triggers.
So when do you send out behavioral emails?
---
Appropriate Occasions for Dynamic Emails
You usually send behavioral emails under the following situations:
1.A client hasn't utilized your services in a long time.
2.A user downloads your material or registers for your event.
3.You wish to greet a new customer and give them some helpful hints.
4.You wish to provide the consumer with an account activity report.
---
Clarity Of Purpose Of The Email
After personalizing the email, you must cover its purpose clearly.
This section of your email should be in the center. You can talk about a new product brand you've released or a product review of someone else's.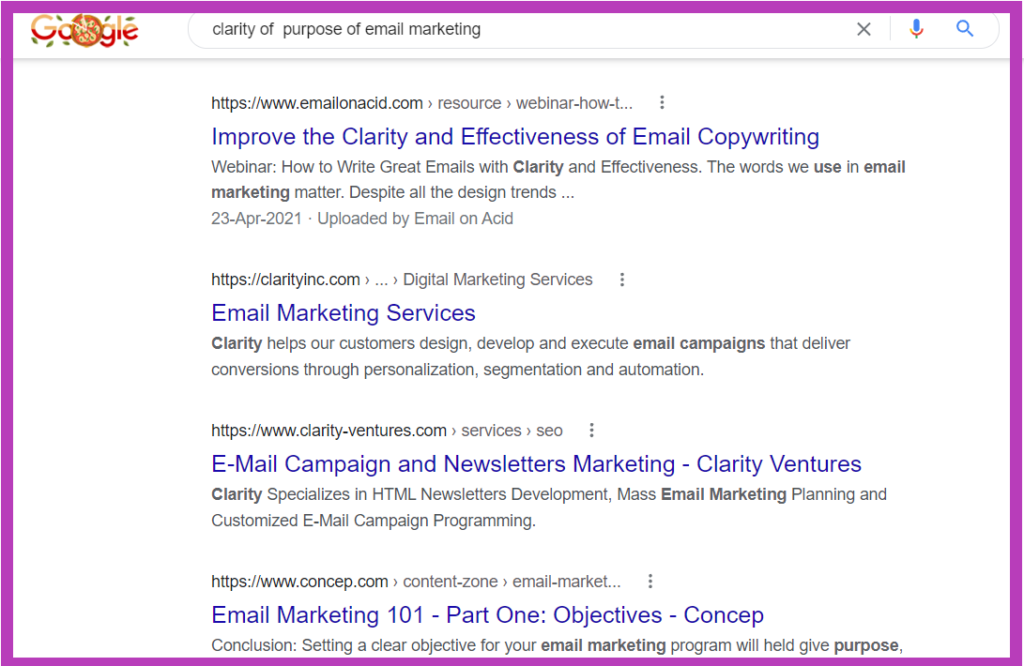 You can recommend some valuable online courses or a community that they might be interested in joining.
As you write that, be genuine. Talk to them as though you were chatting with a buddy over coffee.
Use bullet points or a numbered list to make it easier to read. Do this particularly, if you have more than one subject to discuss.
Remember to include the links to the product or review in the email while you're composing it.
---
Personalize That Email More
You should close the email with another piece of personalization. That's a smart move, once you've informed the reader about your business.
You can sign off with a sentence or two.
You might end with something like, "Now I'm going fishing just to relax!"
Or, "Helping with household chores so I can take a well-deserved break!"
---
Email Autoresponder Software
An autoresponder is used by the majority of bloggers. And the autoresponder does exactly what it says on the tin.
It replies to all emails automatically.
If a reader visits your site and wants to sign up for your freebie e-book, the autoresponder will respond and instantly share the information they requested.
Alternately, you can also program the autoresponder to respond to certain occurrences. This occurrence could be a reader clicking on a link, or purchasing a product. 
Besides, there are some other incredible advantages that come with autoresponders.
Read on.
---
Benefits Of Autoresponders
Some major advantages of autoresponders are:-
1.Autoresponders make it easy to develop long-term connections with subscribers.
2. Autoresponders make it simple to replicate your efforts.
3. They allow for ongoing marketing without the need to hire more personnel.
4. An autoresponder may convert website visitors who are anonymous into subscribers.
5. Continuous communication allows you to develop repeat sales.
And guess what? Autoresponder emails of different kinds are employed for specific effects.
---
Follow-Up And Broadcast Autoresponders
There are two kinds of emails you usually send out when you get into email marketing earnestly.
These are follow-up emails and broadcast emails.
Let's get a hang of these.
---
Follow-Up Emails
Follow-up emails are pre-written emails for your list that are pre-loaded into your autoresponder.
Sequence And Intervals In Follow Up Emails
It's usually known that follow-up emails are sent after the user subscribes to your emails.
How does it work, really?
Well, follow-up emails are sent to the subscribers in a sequence.
And you do this by fixing an interval when you create a new follow-up message. This interval is the number of days the system "waits" before sending the email.
So, if your second follow-up has a four-day gap, subscribers will receive that message four days after the first.
---
Follow Up Emails For All Subscribers
Follow-up emails are significant since they cater to all subscribers regardless of their joining date. Mind you, not all of your subscribers joined your list on the same day.
So people who signed up for your list in January will also receive the same, valuable email as those who signed up in July.
---
Freebies In Follow Up Emails
Normally follow-up emails are good for distributing freebies.
And you give a freebie you promised only in return for a new subscriber's email address. So it's a win-win for both, you and the subscriber.
---
Deliver Tutorial Content
Follow-up emails can also deliver a series of tutorial emails.
The emails will be sent to all of your new subscribers in the sequence that you specify.
---
Keep The Email Content Evergreen
When sending follow-up emails, avoid issues that are hot right now.
Instead, keep your email content evergreen. 
In fact, evergreen content pays rich dividends in the long term. And that includes evergreen content for blogs, YouTube,and social media.  
Likewise for email marketing,if you don't stick to evergreen themes, you could be sending outdated emails.
For example, you could be discussing the impact of extremely hot weather on our work efficiency.
But the catch is, if an email about hot weather is sent out during the extreme cold of winter, it generates an immediate dissonance with the reader.
This dissonance could also impact your long-term relationship with the subscribers.
Why?
Because these little niggles and oversights do impact the reader subconsciously and enable him to evaluate you. They tell him whether you're really interested in him or not.
---
 Broadcast Emails
Broadcast emails are unlike follow-up emails. This sort of content does not require any prior planning.
Specified Days And Times
Broadcasts are scheduled to go out on certain days and times that you specify when you compose the message.
 Instead of specifying an interval, you just select the broadcast's send time, and it will be sent to your list at that moment.
---
Broadcast Emails For Segments Of Subscribers
Interestingly, broadcasts can be delivered to specific portions of your list.
And there's a hidden advantage to that. Guess what?
It allows you to target subscribers who are most interested in your content.
Here's how you do it.
You send an email to everyone on your list, irrespective of when they joined up for your newsletter.
Quite naturally, this type of email generally contains information on current events.
---
Appropriate Time For Broadcast Emails
Broadcasts are a great method to get important information out quickly.
Events, holiday emails, and significant occasions are all good occasions for broadcasting. Similarly, broadcasts are an effective approach to provide weekly or monthly newsletters.
---
Newsletters
The most popular form of email broadcast is a newsletter.
In fact it's also a superb  method to stay current and keep your site in front of your email list's contacts. And they help to keep your audience informed about your activities
They're also an excellent indication of what your readers acn expect from you in the future.
---
Related content
Don't Start Email Marketing Until You Know These Best And Easy Tactics
---
Conclusion
You realize how email is an excellent medium to interact with your audience and build a business relationship.
However, in the email you send to your list, you'll want to find a balance between personalization and commercial content.
And experts recommend that addressing the audience by name is one of the finest methods to build personal relationships.
One big game changer in email marketing is an autoresponder. These tools automate your efforts and enable you to send broadcast and follow-up emails to your subscribers, which greatly simplifies your email marketing strategy.
So decide today to exploit your email marketing in order to accelerate your blog's success.