Latent Semantic Indexing (LSI) keywords are crucial for your content quality and ranking. Webopedia.com defines it "as an algorithm used by search engines to determine what a page is about, outside of specifically matching search query text".
LSI keywords are those that have a strong connection to your core topic. Google algorithms use them to determine the context, value, and quality of content. They are related, but not synonyms. Many tools like LSI Graph, SERP Stat, KW Finder, SEO Processor are very effective in finding LSI keywords.
Interestingly, even the basics of keyword research revolve around finding the search phrases frequently entered by online readers.
Eventually, this serves as a kind of feedback to the blogger that helps in creating valuable content for the reader. It also enhances SEO scores for the site.
But the use of these tools is relevant only when we understand the benefit of LSI keywords for your content.
So what is the significance of LSI keywords for your content?
---
Benefits Of LSI Keywords For Your Content
One huge advantage of LSI keywords for your content is that relevant and related keywords automatically get you higher search engine rankings.
With a generous mix of LSI keywords, more readers settle into your content with increased on-site browsing time.
As a result, search engines also support your efforts in satisfying user intent.
More importantly, these keywords increase your content credibility.
And you're wondering how does that happen ?
Well, that happens simply because of higher rankings. And this is plainly due to enhanced user engagement, resulting in lower bounce rates as well.
Eventually, you are also indirectly rewarded with a higher Google E-A-T score.
Now let's take a look at various tools for LSI keywords.
---
1. Google Search
One of the quickest ways to find LSI keywords is through a simple Google search.
Whenever you enter a particular keyword into the Google search bar, a number of results automatically show up.
For instance, if you type the word "American" in the search bar, this is what you get :-
A bunch of related keywords immediately appear alongside the main "seed" keyword which you entered.
These are the keywords that Google automatically associates with your search term. And these happen to be the magic LSI keywords.
You can also find similar LSI keywords at the bottom of the Google search results page.
However, the point is reiterated; that these related keywords are not always synonyms.
Most importantly, they are likely to vary according to your geographical location.
---
2. LSI Graph
When you want quick and easy results for your search query then LSI Graph is one of the best tools to use.
This tool allows you about 20 search queries daily. And with that, you can obtain about 50 LSI keywords from the tool.
In order to use the tool, you simply need to visit the site and open an account. Once done, you enter the search query and click.
The output is a pretty good list of LSI keywords. You can use them in your content to improve your SERP rankings.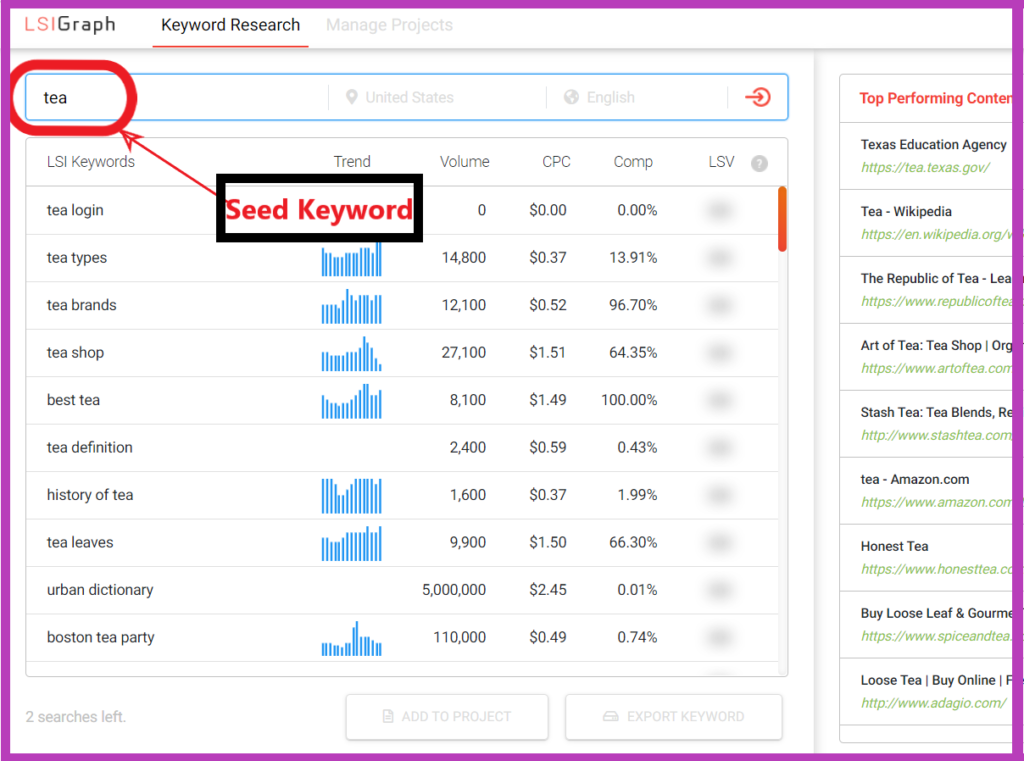 With this tool you get the LSI keyword, trend, volume, cost per click (CPC), competition, and low search volume (LSV).
And these parameters are sufficiently good to make a start for your LSI keywords search.
LSI keywords are related closely to primary keywords, and they supplement the context in which the keywords are used. They also determine where the keywords are placed in the content.
So where does LSI Graph figure in this whole process?
Well, LSI Graph helps find long-tail keywords.
So you're asking what's the major benefit of long-tail keywords?
Okay so here's the thing.
Long-tail keywords are specific to a topic, product, or website.
But they come with competition and hence also, low search traffic.
Long-tail keywords are easier to rank for and have higher conversion rates than short-tail keywords.
What's more? LSI graph is free.
---
3. Google Keyword Planner
One more effective way to get LSI keywords is with Keyword Planner Tool from Google.
This tool helps you get ideas for new keywords and edits your list of keyword ideas.
You can even add keywords to your plan and see a performance forecast. And the best part is that you can get hundreds of keywords and also common search terms with this tool.
But your interest should be in the high search volume and low competition keywords mostly.
Those related keywords are what fetch you the best results.
---
4. Alexa's Keyword Difficulty Tool
Alexa is an Amazon company, and it offers a great Keyword difficulty tool, that helps you find related LSI keywords.
With the Alexa Keyword Difficulty Tool, you can gain major advantages :
▪You get to know where to start
▪You find the best opportunities.
▪You discover new ideas.
▪You can satisfy the relevance of keywords for your site.
▪You consider the competition as well.
▪Save your favorite keywords
The most critical advantage is that this tool helps you see who's ranking among your competitors.
Consequently, you enhance your site's overall keyword strategy
---
5. Ultimate Keyword Hunter
With the Ultimate Keyword Hunter, you can find matching words, based on Google's top sites' content.
The striking advantage is that it's a free tool . And it helps you generate a list of sites for analysis.
The best part is that you can also do a real-time validation of search terms in your content, and to top it you get an "all languages" support.
This tool allows you to select related keywords based on specific websites.
And how does that happen really?
The process starts with the parsing of websites. Once this is done, a list of sites appears from which relevant keywords can be worked on.
After this, you only need to set the word count above the value of "one".
This way, as soon as you start analyzing different websites you can get a number of keywords based on your seed keyword.
The number of word counts appearing helps you understand the popularity of a specific word or phrase.
This enables you to aim for the right mix of relevant keywords in your content.
A very good filter in this tool is an "exclusion list", which helps you to exclude all those words and terms that are irrelevant and hence can be excluded from optimization effort.
---
6. Keys4Up
Key4Up helps you to get LSI keywords, synonyms, semantic words, and phrases
And the user can search any keyword to obtain multiple results.
The tool enables users to keep checking keywords so as to maintain a high ranking.
It is based on the Google Hummingbird algorithm that is meant to ensure your visitors get value from their content.
Besides this, the tool can service your search in five different languages that are, English, German, French, Spanish, and Italian.
---
7. SERP Stat
SERP Stat is a very effective competitor analysis and rank tracking tool.
But the best part is that it does keyword analysis and competitor research, based on regional search results.
It evaluates keyword requirements by using missing keywords on your site. This, in turn, speeds up your keyword analysis enormously.
The Serpstat keyword tool finds LSI keywords, search suggestions, and search questions.
Search suggestions are prompts that appear close to the search bar as you type queries in them.
And search questions are actually interrogations that the tool throws up as you type your query.
Finally, based on the related keywords it generates a report that contains volume, popularity, competition, and keyword difficulty.
---
8. KW Finder
KW Finder has a unique feature wherein you can either search by keywords, or you can search by domain.
When you search by keywords, you can find relevant keywords for your site.And when you search by domain, you can learn more about competitor keywords.
KW Finder also has the feature for generating questions and general keyword suggestions.
You can even add specific filters for including or excluding keywords from a particular list.
According to KW Finder, the key to keyword analysis is timing. They believe that content should be created based on previous search volumes and long-term patterns.
This enables you to make a decision for suitable keywords.
---
9. SEO Processor
There are multiple functionalities on the SEO Processor Tool. And these are its biggest USP.
It has
▪An over-optimization check.
▪Social SEO monitoring,
▪On-page SEO.
▪Rich snippet optimization.
Besides this, SEO Processor offers you great inputs for strengthening your contextual signals to obtain search engine optimisation.
And this is possible through its internal analytic system called SemantiQ Engine.
What it offers you is semantic density assessment.This essentially informs you if your content is semantically related.
---
10.SemRush SEO Tool
Semrush is one of the most popular and in-demand keyword research tools out there. In fact, it is primarily a tool for researching backlinks and keywords of competitors.
It has features that give you related keywords and LSI keywords.
In fact, through its "SEO content template" feature, you can get a list of all related LSI keywords connected with your seed keyword.
You only need to enter the seed keyword in the search bar and you can get the related keywords and volume, CPC, and competition for that keyword.
And if you have the pro-plan you can get the entire report on related keywords.
Related Topics
The 7 Evergreen Basics of Keyword Research For Great SEO Results.
Incredible Keyword Research Strategies For Beginners (2021)
---
Conclusion
LSI keywords enable search engines to place your content in its right context. They also satisfy the user's keyword intent.
More importantly, search engines can bracket your content correctly.
Using relevant, and related (LSI) keywords vastly improves its chances of getting ranked higher in search results.
A variety of tools for obtaining LSI keywords have been covered in this article. Some are paid tools, while most are free.
But the significant need is to actually utilize these tools in order to enhance your chances of reaching higher rankings in the SERPs.
A lot of smart websites owners are doing just that. And, as a result, consistently notching up higher Google rankings.
Wishing you good luck for work in the trenches with these newfound LSI tools!