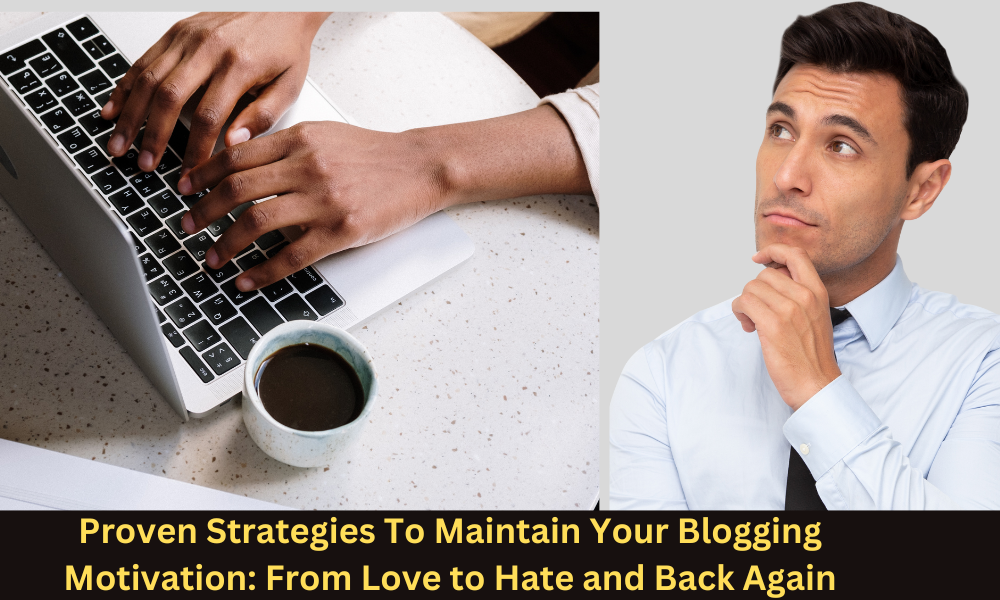 There will be times in your blogging journey when you'll find it difficult to maintain your blogging motivation.
That's because there are bound to be highs and lows in this journey, just as in any other field.
According to studies, 67% of bloggers who post daily say that they are successful. This also implies that a lot of other blogs aren't that successful.
The fact is, maintaining their blogging motivation, and the enthusiasm necessary for serious blogging is challenging, for a lot of bloggers.
But the long-term profits in blogging are worth the effort of staying motivated to blog.
So as a new blogger, why can't you maintain your blogging motivation? This happens to a lot of new bloggers who are eager to get started and have high hopes for their blogs. However, the hard work required in the blogging journey starts to seem increasingly demanding, over time. Eventually, they feel overwhelmed and quit, whereas a little more patience would have helped.
If this is something you've experienced, know that you're not alone.
Perhaps you're someone who's unable to maintain your blogging motivation over the long term.
And maybe you've developed a love-hate attitude toward your blog.
If all this sound a bit familiar, then this post is for you.
Let's explore some great ways to help maintain your blogging motivation.
---
Write A Post Weekly And Add More Until You Meet Your Publication Goal.
Be A Time Traveler In Blogging With Pre-Planned Posts
Spend some time considering the subjects for your blog posts in advance. Make a list of ideas, and try to come up with a few distinct angles or perspectives for each topic.
Time Waits For No One, So Schedule Your Success.
Make a vow to add a new blog post every week, and then keep it up.
Each week, make a non-negotiable appointment to write your blog post.
Reduce, Reuse, Recycle…Your Content!"
Consider repurposing some of your old content if you find it difficult to come up with new ideas each week.
You can add fresh information to an existing post.
You could even compile your most popular articles into a roundup piece, or a number of connected articles into an ebook or guide.
Templates — The Cheat Codes For Content Creation.
Consider using blog post templates to cut down on time and boost productivity.
This might assist you in structuring your writing and organizing your thoughts quickly so that you can concentrate on the content.
Batching Your Writing? More Like Batching Your Success!
To save time and boost efficiency, try batch-producing your content.
This entails writing many pieces of content around the same topic at the same time and scheduling them for future publication dates.Otherwise, you may end up working on disconnected topics, which is like multitasking. And multitasking is said to have a negative effect on productivity, according to the latest research.
Try writing in batches rather than attempting to write differently related blog articles in one sitting.
Such batching will also allow you to keep ahead of your blogging schedule and have enough content to post on a regular basis.
This process is bound to help you maintain your blogging motivation when you consistently follow this over a long time.
---
Maintain Your Blogging Motivation By Timing Your Writing 
Keep in mind that the goal of this exercise is to improve both your writing abilities and your ability to think and write under time constraints.
I have some suggestions for people who want to schedule their blog writing and turn it into a contest.
Decide On A Deadline:
Choose how much time you want to spend writing your blog post. It might be for 30 minutes, an hour, or any other duration that suits you.
Set The Clock:
Once you've decided on a deadline, start the timer and begin writing. Maintain concentration while avoiding distractions at this time.
Write Continuously:
Don't worry about using excellent grammar or sentence structure at this time. Just keep typing and make an effort to fill the page with as many words as you can.
Review And Edit
Take a rest after the timer sounds, then resume writing.
After carefully reading it, making any necessary adjustments, and edit it for clarity.
Rinse and Repeat The Process :
If you want to make it a competition, repeat the procedure with a group of friends or coworkers.
Whoever can write the most words or a blog post of high quality within the allotted time, wins.
Such spurts of activity are great fuel and help maintain your blogging motivation over the long term, despite the setbacks now and then.
---
Tips for Gradually Increasing Your Posting Pace
Begin By Establishing A Reasonable Goal:
Before you start raising your posting pace, it's necessary to set a goal that is feasible.
If you currently post once a week, you could raise this to twice or three times a week, depending on your schedule and workload.
Be sure the publishing goal is doable for you and won't result in exhaustion.
Prepare A Content Plan Ahead Of Time:
It's critical to have a content plan in place if you want to enhance your blog publishing rate. This will assist you in being organized and ensuring that you have enough content to match your posting schedule.To schedule your posts ahead of time, you should create a content calendar or use a scheduling tool.
Make Use Of User-Generated Content:
User-generated content (UGC) is created by your audience or consumers.
By using UGC on your social media platforms or website, you can improve your blog publishing rate without having to create all the content yourself.
UGC can also be used to boost engagement and create a sense of community around your business.
Keep Track Of Your Progress:
Finally, it's crucial to track your progress as you raise your posting pace.
This will allow you to observe what is and isn't working and alter your plan accordingly.
You should monitor metrics like interaction, audience growth, and website traffic to evaluate how your increased posting frequency affects your brand's online presence.
Remember, healthy blog analytics can be a subconscious source of encouragement, and they can help maintain your blogging motivation
---
Overcome Blogging Blocks: Seek Help from Others and Flourish!
Join Forces With Other Bloggers:
Collaboration with other bloggers can be an excellent way of learning from their experiences and generating fresh ideas.
You can collaborate on a blog post or guest post on one other's blogs.
This will enable you to broaden your audience and increase your reach.
Participate in Blogging Communities or Forums:
There are numerous blogging groups and forums where you can easily connect with other bloggers and ask for assistance.You can join groups on social media networks like Facebook, and LinkedIn or join forums like Quora, Reddit, etc. You can communicate with other bloggers and benefit from their experiences this way.
Attend Blogging Courses or Conferences:
Attending workshops or conferences in your niche is a fantastic opportunity to meet and learn from other bloggers.
You can attend sessions, ask questions, and engage in person with other bloggers.
It can also assist you in developing a strong network.
Consult A Professional Blogger:
If you are having difficulty creating excellent content or need help with the design of your blog, consider approaching a professional blogger.
Such experts with deep experience can offer expert guidance, insights, and assistance in creating a stronger blogging strategy.
Involve Your Readers in the Feedback Process:
Remember to solicit feedback from your readers.
They can provide you with valuable feedback on what they like and dislike about your site.
You can use this feedback to make your blog more engaging and intriguing to your readers.
---
Maintain Your Blogging Motivation By Subscribing to Inspiring Blogs
Reading other blogs is one excellent way to learn different things, be inspired, or obtain current updates from a different perspective.
There are numerous benefits to subscribing to your favorite blogs:
1. It Helps You Save Time. You won't have to check several blogs every day to see whether new posts have been uploaded.
2. You Will Not Be Left Behind. If you don't frequent a blog on a regular basis, you could miss important posts. But when you actively subscribe to a blog, all of its posts are delivered to your RSS reader.
Here are some excellent blogs to subscribe to for learning more about blogging:-
Neil Patel:
Neil Patel is a well-known blogger and digital marketer who discusses content marketing, SEO, and social media.
His blog is an excellent resource for learning about the newest digital marketing trends and best practices.
Copyblogger:
Copyblogger is a blog about creating content and writing copy.
Their site discusses themes like writing catchy headlines, developing intriguing stories, and providing interesting content that readers will enjoy.
Problogger:
Darren Rowse, an expert blogger with over 20 years of experience, runs the blog Problogger.
His site discusses a variety of issues, such as content production, SEO, and monetization.
He also provides useful materials such as courses, ebooks, and webinars.
Smart Blogger:
Jon Morrow, a blogger and writing coach who has helped numerous authors improve their skills, runs Smart Blogger.
His site provides actionable advice on how to write better headlines, create compelling content, and establish a dedicated audience.
---
Challenge Yourself To Increase Audience Engagement
Create Interesting Content:
The key to getting more people to share and comment on your blog posts is to write content that grabs people's attention and keeps them interested.
For this, make sure your post is well-researched and offers insightful information, suggestions, or guidance.
Employ Catchy Headlines:
As it's the first thing readers see, your title has the power to make or break the success of your content. So use interesting, catchy headlines to get people interested in your article and convince them to read it.
Add Social Sharing Buttons:
By including social sharing buttons on your site, you can make it simple for people to share your content.
This enables readers to spread the word about your article among their Facebook, Twitter, and LinkedIn contacts.
Promote Participation
At the conclusion of your post, elicit feedback from readers by posing open-ended questions.
Also, to make your site feel like a community, respond quickly to reader comments and talk with them.
Share Your Post
Advertise your post on social media, email newsletters, and other sites to reach more people.
Encourage others to share your content with the appropriate groups and communities.
This way, the more people see your post, the more likely it is to receive shares and comments.
---
The Power Of Keeping A Daily Journal As A Warm-Up For Your Blog Post.
Writing in a journal is an example of an expressive coping mechanism. This is also a way of processing unpleasant feelings, thoughts, or events.
When everything around you seems to be falling apart, keeping a journal can help you restore order.
You can improve the clarity of your blogging by outlining these points.
Make Time To Write In Your Journal:
Make it a regular part of your daily routine at the time that best suits you, whether it's in the morning or the evening.
Concentrate On A Single Subject:
Choose a subject or theme for your journal entries. This could be self-improvement, productivity, or creativity. 
If you stay focused you could very well come up with blog post ideas by doing this.
Journaling Is Only For Introspection And Exploration.
Remember grammar, spelling, and punctuation are unimportant when you're journaling. Because it's an intimate exercise, you can relax about rigid rules. So simply jot down your ideas and emotions as they occur to you.
Keep in mind that the goal of journaling is not to produce a flawless piece of writing, but rather to reflect and explore your inner world.
Using Journaling Prompts
Try using writing prompts to get your writing going if you're having trouble coming up with ideas.
Online prompts for journaling are available, or you can make your own according to your interests and objectives.
Play Around With Various Formats:
Use a variety of styles in your journal entries, such as lists, bullet points, or free-flowing paragraphs, to add variety.
This will keep your blog readers interested and engaged with your work.
---
FAQs
1. How can I develop the habit of writing to keep my blogging motivation high?
Stay Punctual To Write Consistently. Land on the computer screen every day at the same time. This usually implies either first thing in the morning or right before you retire to bed.
Make a unique blog ritual. Have a designated area and rituals you follow before blogging.
Practice writing publicly. Take your laptop or tablet and move to a nearby mall or cafe, or try a change of scenery.
Take a break from blogging. Everybody needs a break now and then from any long-term work. So do you. Hence take a break to refresh and rejuvenate.
2. What is it that keeps a blogger inspired and driven over an extended period of time?
A significant portion of what drives a person to start a blog is the desire to break free from the limits of their present situation.
Although this isn't the case for everyone, a large number of bloggers say that the desire to break free from their 9-to-5 job was a driving force behind their decision to begin writing. They wanted to strike out on their own
3. How do I motivate myself to blog in spite of setbacks?
Establish achievable goals:
Motivating yourself to keep up with your blog can be accomplished through the setting of attainable goals.
To get started, begin by establishing some manageable and attainable goals for your blog, such as writing one new post every week.
You will experience a growing sense of fulfillment as you meet each objective, which can serve as a powerful incentive for you to keep posting.
Setup a schedule:
Developing a routine for your blog might assist you in maintaining your momentum and staying on track with your goals.
You should establish particular times each day or week to work on your blog, and you should do your best to adhere to the schedule that you create.
This will make it easier for you to build a routine and ensure that you make progress toward the goals you have set for your blog.
4. Why do bloggers give up instead of finding ways to keep themselves motivated to blog?
A significant number of bloggers have given up because they are not satisfied with their speed of progress.
But every successful blogger will also tell you that it took a while to build an audience and make a steady income from their site.
Please take a look at the major metrics of your blog right now and compare them to those from three months ago or one year ago. You'll get a clear idea about your progress, and will also feel encouraged to carry on.
5. How do you bring back your lost drive and maintain your blogging motivation again?
Keep in mind your original motivation for starting a blog:
Consider the inspiration you had within you when you first started your blog.
Was it a passion for a subject or an eagerness to impart knowledge and skills?
Finding your original inspiration again can help you rekindle your passion for blogging and offer you a fresh sense of direction.
Establish attainable targets:
Consider making manageable, daily, or weekly goals that you can work towards.
This can offer you a sense of accomplishment and momentum, both of which can be very motivating.
Take inspiration from other bloggers:
Reading other bloggers' posts and seeing their content actually inspires you and helps you maintain your blogging motivation.
Follow bloggers that write about topics related to your own niche.And engage with them by posting comments or sharing their articles on social media.
---
Related Posts
 How Difficult Is It To Stay Motivated As A Blogger In 2023?
21 Best Ways To Stay Motivated As A Newbie Blogger In 2023
Motivate Yourself To Blog Every Day: Best 27 Strategies For 2023
The Most Profitable Blogs On The Internet: 21 Lessons From The Richest Bloggers
---
Conclusion
You have a responsibility to maintain your blogging motivation. This is especially crucial if you want to achieve long-term success as a blogger.
But many bloggers give up because they're simply too overwhelmed by the enormous volume of effort required.
But, you need to pick up the pace of blogging gradually if you want to keep your blogging motivation.
In order to do that, you must start writing at least once every week. If you want to overcome great challenges in your blogging experience, you'll have to interact with other successful bloggers.
Perhaps the simplest solution is to just follow more blogs in your niche and draw inspiration from other successful bloggers.
You will eventually need to experiment with newer, more efficient methods of blogging in order to maintain your blogging motivation.