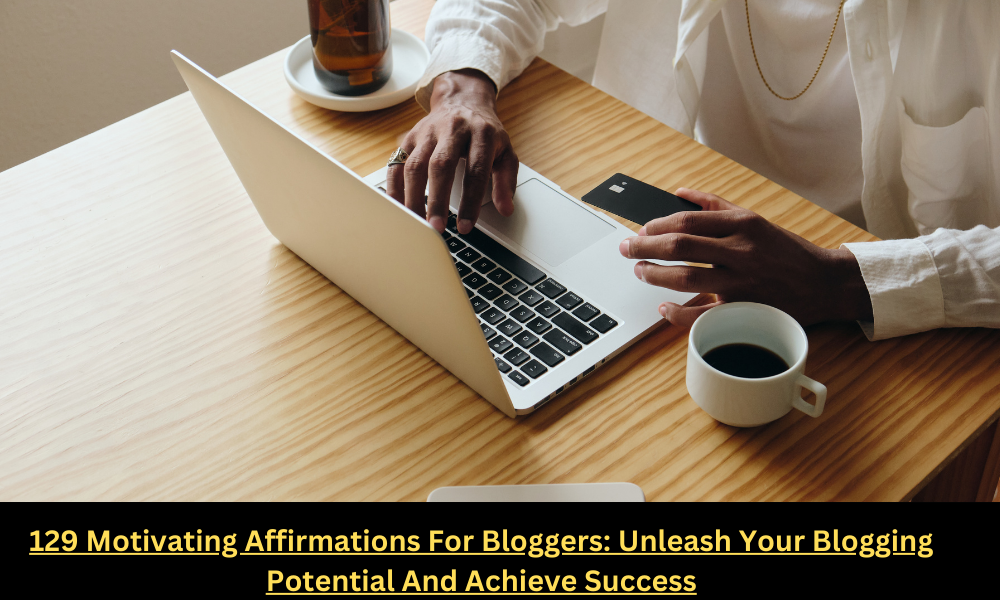 Motivating affirmations for bloggers? Never heard of such a thing.Is this for real?
Well here's the little-known secret about blogging.
Blogging is a lucrative and gratifying career, but the whole blogging journey can often get difficult.
 The fact is if you want to be a successful blogger, you have to stay motivated and inspired. And you've got to stay focused on your goals a lot of the time.
Employing motivating affirmations for bloggers is a great way to stay inspired on your lonely journey
According to a study featured in the journal Social Cognitive and Affective Neuroscience, the reward centers in your brain are activated when you practice self-affirmation. Your neural pathways are stimulated, which changes the happy and positive parts of your brain.
Hence, motivating affirmations are not mere grandma's tales anymore.
They are powerful and effective tools used by top achievers in all fields today. That includes successful bloggers as well.
As a blogger, you can use motivating affirmations to reinforce good thoughts and beliefs by saying positive things to yourself.
Saying affirmations over and over can teach your mind to think positively and keep you going.
So what is the importance of motivating affirmations for bloggers? In essence, motivating affirmations are uplifting thoughts that reinforce positive beliefs. They operate on the subconscious to reshape your thinking patterns. If you are a blogger who has trouble with unintentional negative self-talk, you should first try to figure out what your negative beliefs are. Then, deliberately repeat motivating affirmations to replace those negative beliefs with positive ones. For best results, pick motivating affirmations for bloggers that relate to you, and speed up your blogging success.
---
---
Sample Motivating Affirmations For Bloggers
Though there are lots of affirmations up ahead, here are some sample affirmations to help you on your blogging journey :
1. I am a well-known blogger who encourages readers with my work.
2. My blog draws ideal readers who connect with my message.
3. My blog is becoming more well-known and influential every day.
4. I have faith in the direction I am going and am confident in my abilities as a blogger.
5. I'm receptive to fresh chances and encounters that will advance my blogging career.
6. My blog draws devoted readers and reflects my distinct voice and viewpoint.
You only need to repeat such motivating affirmations for bloggers every day.
Say them out loud, record them in a notebook, or even make a vision board out of pictures that symbolize your objectives and aims.
---
The Secret Behind Motivating Affirmations For Bloggers
Interestingly, small improvements in your thinking can make huge differences in your performance in your blogging work.
Let me unveil this a bit.
Bloggers can be held back and kept from reaching their blogging goals by unfavorable beliefs.
But as a blogger with the help of motivating affirmations, we can disprove these false beliefs and change the way our brains work so we can think better. And eventually, do well on our blogging journey.
Are you aware that you think thousand of thoughts throughout the day?
One estimate says that we think approximately 60,000 thoughts in a day. Unfortunately, a lot of them are negative thoughts.
And most of these thoughts come across as a discouraging self-dialogue.
Bloggers also unknowingly think negatively like this a lot.
However, motivating affirmations assist in repairing the harm our own unconscious thoughts have done. With these motivational thoughts, positive self-talk replaces negative self-talk, provided we repeat affirmations frequently. As a blogger, you can challenge a negative thought, such as "I'm not smart enough at blogging," with an affirmation such as "I am competent and deserving of success as a blogger."
---
The Power Of I am Statements In Motivating Affirmations
Why do most positive affirmations start with an I am statement?
Usually, motivating affirmations frequently start with an "I am" statement because they support a good self-image. They also set up a strong foundation for positive beliefs.
The fact is that "I am" statements are powerful because they have the potential to change your identity and self-perception.
When we tell ourselves repeatedly, "I am a successful blogger" or "I am a confident blogger," we begin to internalize these beliefs. And are more motivated as bloggers to succeed.
Eventually, due to changed internal beliefs, we're compelled as bloggers, to perform in ways that support our growth.
By saying "I am," you are letting the universe and yourself know who you are. That you are motivated and inspired, and that you want to become an excellent blogger.
By saying, "I am successful," for instance, you are telling the universe and yourself that you are already successful.
When you reprogram your subconscious mind to believe that you are successful, this affirmation helps you develop positive beliefs as a blogger.
This eventually results in behaviors that are aligned with your blogging success.
I am statements are also effective because they generate a sense of responsibility and ownership for your blogging goals. By telling yourself repeatedly, "I am in control of my life," you are reminding yourself that you are not a victim of circumstance but rather have the ability to design the life you desire. In essence, "I am" statements are powerful affirmations because they change your perceptions of who you are as a person and give you a sense of control over your life.
---
The Advantages Of Motivating Affirmations For Bloggers
As bloggers, we can cultivate a positive mindset and move closer to our objectives by concentrating on what we want to be and expressing it with "I am" statements.
Improved self-esteem, enhanced blogging motivation, and overall enthusiasm for blogging often result from this change of beliefs.
Here are some amazing advantages of motivating affirmations for bloggers:
• Motivating affirmations work to reprogram your subconscious mind as a blogger. And because that is in charge of your thoughts and beliefs, your blogging habits change over a period of time. You definitely become a better blogger.
• By repeatedly stating positive beliefs, as a blogger, you can train your brain to concentrate on what you want. You also step away from what you don't want.
• By using motivating affirmations, as a blogger you can change your thinking patterns. You can shift from a belief state that is negative to one that is positive and empowering.
• By directing your attention to positive thoughts, you draw more positive qualities into your life, including opportunity and insights.
• Repeating motivating affirmations for bloggers affirmations will increase your self-worth and optimism, two qualities that are necessary for success in many facets of life.
• By praising your qualities, you serve as a constant reminder of your own potential and promise. Even in trying times, affirmations often help you stay inspired and goal-focused. You can get rid of self-doubt and negative thoughts that can prevent you from succeeding by practicing affirmations.
• Repeating optimistic and motivating affirmations for bloggers also helps you gain a positive view of life. This enables you to attract more supportive people and circumstances into your blogging journey.
How To Use Motivating Affirmations For Bloggers In Practice
• Record motivating affirmations in a journal.
• Add motivating blogging affirmations to your daily calendar.
• Speak them out while gazing in the mirror as you do so.
• Say them out loud while you're commuting.
• Repeat the affirmations aloud with a buddy as you share them.
When Should Motivating Affirmations For Bloggers Be Repeated?
• Ahead of creating a fresh blog post.
• Repeat motivating affirmations first in the morning.
• When using your website.
• Content ideation.
• When you're feeling down.
Also, practice these motivating affirmations for a continuous period of 21 day
---
Blogging Affirmation For Motivating Bloggers
Affirmations For Blogging Skills
I am a highly skilled and valuable blogger.
I effortlessly write my blog posts for several hours each day.
I always attract opportunities that align with my passions and skills in blogging.
I am continuously improving my blogging skills including SEO.
I am a competent and skilled blogger, and my work is worthwhile.
As a blogger, I write a minimum of 1100 words daily.
I create blog posts every day as a discipline.
I follow a regular and productive blogging routine.
My blogging routine is tailored to produce the outcomes I desire.
I write with extreme attentiveness
I always find time to update my blog.
I am a successful blogger, and I live my life through blogging.
I stick to my blog posting schedule like a pro.
My blog is dynamic, valuable to readers, and always first in search results.
Affirmations For Facing Challenges
I am open and receptive to new ideas and challenges in blogging.
I easily stay focused and productive even on extreme challenges as a blogger.
I am able to recognize and address potential blogging challenges in advance.
I am easily able to navigate challenging situations in a positive way on my blogging journey.
I accept blogging challenges and failures as chances for development and education.
I don't save all of my energy worrying about blogging.
I put all of my efforts into having faith in the success of my blog.
Even when something in my blogging doesn't go as planned, I know I'm headed in the correct direction.
I give up my resistance and let the universe direct me as I go about my blogging journey.
As a blogger, I make the most of anything that comes my way.
As a blogger, I allow myself time to take a break and take a deep breath.
As a good blogger, I have the fortitude and creativity to meet every obstacle that comes my way.
I have unlimited power to overcome blogging problems
There is no limit to how successful I can be as a blogger.
As a blogger, I'm not afraid to experiment and fail.
I appreciate how my blog has grown as a result of its obstacles.
I have the ability to let go of thoughts that are not helpful to me as a blogger.
I'm ready to trust that everything will work out in my blogging, even when it doesn't feel like it.
I cannot always dictate the external world of a blogger, but I can control my responses to it.
I let go of concerns that deplete my power since I'm a good blogger.
Affirmations For Your Blog's Success And Growth
I am able to recognize and seize blogging opportunities for constant progress and growth
I am constantly growing and developing on my journey as a successful blogger.
I am able to maintain a healthy work-life balance alongside my blogging success.
I am able to implement effective strategies for my blog's growth and success.
I am willingly accepting the monetary success of a blogger.
I am able to identify and leverage my strengths for my blog's growth.
Affirmations For Blogging Goals
I am dedicated and committed to achieving my blogging goals.
I am able to balance short-term blogging goals with long-term vision.
I am able to work collaboratively with influencers in my niche to reach my blogging goals.
I am focused and driven toward achieving my blogging goals.
As a blogger, I am deserving of success and wealth.
I am glad to massively enhance my money-earning abilities as a blogger.
Affirmations For Blog Content Writing
I am proactive and take initiative in my blog content writing.
I am fully aware of how to stimulate my creative thinking.
I am an excellent content writer and promote my blog on social media well.
Whenever it's time to come up with blog content ideas, I get pumped up.
I automatically and easily come up with blog post ideas.
I keep a notepad by my bedside to capture the blog ideas that come to me regularly.
I naturally come up with blog content ideas when I sit down to write.
The environment around me is a wonderful source of blogging motivation for me.
Both expected and unexpected sources constantly inspire me to create blog content.
I am able to create great blog content that helps my readers solve their difficulties.
Affirmations For Excellence At Blogging
I am always striving for excellence in everything I do as a blogger.
I am innovative and excellent at creating new blog post ideas.
My blog followers are well aware of the values I express in my postings.
I uphold the values upon which my blog was established.
My readers share my fundamental principles and ideals.
I am an excellent blogger who is highly liked by my audience.
The information on my blog promotes the success of my readers.
Affirmations For Creating Value
I am confident in my ability to add value to my blog readers and benefit them.
I am respected for my expertise and knowledge in my blog niche.
I am constantly adding more value to my blog's readers
I am able to handle stress and pressure in my blogging journey in a healthy way.
I always tell the truth to my blog's readers
My visitors are aware of the value that my blog posts provide for them.
I only post with entirely genuine interest when I blog.
I am certain that my blog posts will be of great use to my readers.
I firmly believe in the message that my blog is spreading.
My blog continuously offers value and has a distinct character.
When I blog, my creativity provides audiences with something special.
Affirmations For Pure Motivation
1. I am motivated and inspired by chance encounters to add value through my blog.
2. I am able to inspire and motivate others toward success through my blog.
3. I am able to stay motivated and inspired toward my blogging goals.
4. I am easily able to stay focused and motivated toward achieving my blog's goals.
5. I'm on the right track to blogging success.
6. I just started and I'm making quick progress
7. There are numerous experienced bloggers willing to assist me.
8. I figure out the learning curve to blogging quickly
9. Whatever difficulties come, I'm healthy and willing to meet them
10. Every successful blogger started where I am right now
11. I am prepared to make this the most valuable blog on the internet
12. Every day, I get out of bed with full zeal to start blogging
13. My blog traffic is steadily increasing
14. I'm confident that my blog will be successful because I'm putting in the effort.
15. I am learning the ins and outs of blogging with staggering speed.
16. I become excited when a blogging challenge arises.
17. Ideas effortlessly flow from my mind to my blog posts
18. I have a crystal clear vision of my blog becoming a roaring success online.
Affirmations For Creativity As A Blogger
I am able to create and maintain meaningful connections with bloggers in my niche
I have a simple and straightforward method for writing content.
I effortlessly create a productive blogging environment for myself and my readers
I am always creating blog posts that convey my ideas and thoughts clearly and effectively.
I am excited to begin my next article when I step out of bed.
I have a creative and can-do attitude about my blog.
I am a creative thinker and a problem-solver as a blogger.
I'm appreciative of the chance to use my blog to impart my expertise and creativity.
I'm never short on ideas for fresh blog posts.
In a single day, I easily batch-write multiple posts.
I enter a flow-like state as soon as I begin writing.
I have a habit of writing, one that I really enjoy.
I have no trouble coming up with concepts and putting them into action.
Thousands of readers eagerly anticipate my blog posts.
I can see the pattern and direction of an article I'm writing plainly.
More Positive Affirmations For Bloggers
I am always open to feedback and constructive criticism from my blog's readers.
I am able to build and maintain positive relationships with my blog audience.
I am a strategic thinker and a visionary blogger.
I am able to prioritize my blogging tasks and responsibilities effectively.
I am easily able to delegate tasks and responsibilities to my blogging team as it grows.
I am a confident decision-maker as a blogger and a smart risk-taker.
I am a resilient and persistent blogger.
I am able to learn from my blog's failures and mistakes.
I am able to work well under pressure and stay with my blogging schedule effectively.
I am able to maintain a strong personal brand on my blog
I am able to stay up-to-date with my blog niche trends and changes.
I am able to adapt to changing market conditions and my blog readers' needs.
I am able to remain calm and optimistic about challenging tasks as a blogger.
I am able to identify and pursue new blogging opportunities in my niche
I am blogging for growth and development in my niche effortlessly.
I am able to work well independently as a blogger
I am getting better at my blogging expertise daily.
I am organized and efficient in managing my blogging time and blog tasks.
I am able to balance my blogging work and personal life in a healthy way.
I am a trusted and valued blogger in my niche.
I am confident in my abilities to succeed as a blogger.
I am respected and admired by my blog readers, and on social media.
---
FAQs
1. Do motivating affirmations work scientifically?
Positive affirmations stimulate the neural pathways in your brain and create modifications to those areas of the brain that make you happy and positive.
Research also supports other claims about affirmations. That includes reducing health-harming stress, increasing exercise, and improving academic and athletic performance.
2. Why do bloggers require motivating affirmations?
Affirmations have shown to be a powerful tool for growth in virtually every field of work.
This is true for bloggers as well.
Affirmations actually have the power to stimulate you to take particular actions and focus on reaching your life goals.
The precise affirmations provide you the ability to transform your negative thought patterns into positive ones and help you create a new, empowering belief system.
3. Why are affirmations usually in the present tense?
Affirmations are a potent tool, so use them intelligently by sticking to a few basic principles.
Present-tense affirmations are more credible and motivate you to take steps in the direction of your goals.It's logical to always employ the present tense since your subconscious mind does not differentiate between the present and the future.
You must be consistent in practicing affirmations as a blogger, which is the first and most fundamental rule.
4. What time of day is ideal for affirmations for bloggers?
You should start a daily practice and turn affirmations into a habit if you want to reap their full benefits as a long-term blogger.
At least twice every day, start with three to five minutes of blogging-motivation affirmations. Try saying affirmations aloud as you get out of bed in the morning. Definitely, our minds are in the most receptive condition, known as the theta state, just before we enter into sleep. Hence, sleeping at night is among the ideal times to practice affirmations.
This makes it the ideal time to practice positive self-talk to increase the likelihood that it will "hold" with a lasting impact.
5. How do bloggers use affirmations the most effectively?
Repetition and consistency are the secrets to affirmations.
You must therefore create affirmations that are simple to remember and repeat at any time. Make sure they are short and goal-oriented.
Avoid attempting to combine too many topics or speak in a casual manner.
6. Sometimes I just don't feel like blogging. How can I use affirmations to motivate me as a blogger at that time?
Motivation is the driving force by which humans achieve their goals. And affirmations help you achieve your goals more than anything else because they work on your subconscious mind.
Here are some great motivating affirmations to use when you're not feeling like blogging:
1. I am motivated by challenges and obstacles to find solutions through my blog.
2. I am able to inspire and motivate others toward success through my blog.
3. I am able to stay motivated and inspired toward my blogging goals.
4. I am easily able to stay focused and motivated toward achieving my blog's goals.
5. I'm on the right track to blogging success.
6. I just started and I'm making quick progress
7. There are numerous experienced bloggers willing to assist
---
Related Posts
---
Conclusion
Always keep in mind that motivating affirmations for bloggers are just one tool in your kitty for accelerating your ideal blogging journey.
Motivating affirmations for successful blogging often assist bloggers in cultivating a positive outlook, boosting self-confidence, and concentrating on their blogging objectives.
Positive affirmations, like "I am capable of reaching my blogging goals" or "I am worthy of blogging success," can help people get over limiting beliefs and self-doubt and strengthen their resilience in the face of challenges.
Eventually, this will result in more blogging fulfillment and success.
Also, you must act, blog consistently, and maintain concentration on your objectives.
Remember the motivating affirmations for bloggers in this post have been tailor-made for bloggers exclusively. And they will work wonders to help you manifest your blogging dreams, as much as hard work.