Once you have a blog  it's important to plan on making money from your blog at the earliest. This process of making money from your blog is called monetization.
You can monetize your blog through various methods like affiliate marketing, Google AdSense, through sponsorship placements, digital products, e books, native advertising, services on blog, writing reviews on the blog, sponsored blog posts, coaching, and consulting through your blog.
However, monetization of blogs isn't a one-size-fits-all solution. There are many different ways to monetize your blog, and not all of them may work for you.
 That's why it helps to be aware of various monetization methods.
Let's dive right in and get a first hand understanding of various strategies of making money from your blog.
---
1.Affiliate Marketing
Promoting other people's products with your affiliate links is the simplest way to monetise your blog.This is called affiliate marketing,and you don't need to manufacture the products yourself.
Simply obtain your affiliate links from reputed brands and start off.
Amazon is one of the world's largest affiliate networks, but they don't pay high affiliate commissions (most people get about 4 percent as commissions for what they sell as Amazon affiliates).
Based on your sector, I suggest you identify other affiliate programmes that pay out higher affiliate commissions than Amazon. 
However,you'd do well to educate yourself  more about affiliate programmes and how their payments and commissions work .
It's also possible you have an interest in other products or companies, besides Amazon or other well- known affiliate brands.
For example Clickbank is a famous affiliate network, and say you've started off imitating others who promote Clickbank exclusively.But it's perfectly okay if you're interested in expanding your reach by promoting products of other brands, besides Clickbank.
What do you do,in that case?
To determine if other products too have an affiliate programme similar to Clickbank,when you search on Google, replace the word Clickbank with that product, or company of interest. You maybe pleasantly surprised to find so much more in store for you.
Remember, there are no entry barriers to affiliate marketing.
In fact,if you take the appropriate actions for monetizing your blog through affiliate marketing ,  you can generate a handsome income that puts you on the highway to success.  
---
2. Google AdSense
Bloggers who want to monetise their blog often turn to Google AdSense.
With Google AdSense, you can earn money by displaying adverts on your blog and having visitors notice and click on them. 
AdSense works by displaying adverts that are relevant to the content on pages of your site.
For example, if your blog is about food and you publish recipes for barbeques, AdSense may display an advertisement for barbeque grills, electric grills, or charcoal grills.This kind of content-related adveritisng draws clicks from your readers.And if there is a sale through those clicks,you get percentage of the sale too.
Interestingly,joining AdSense is completely free.
And because the qualifications are simple, you can monetize your website or blog even if it's brand new.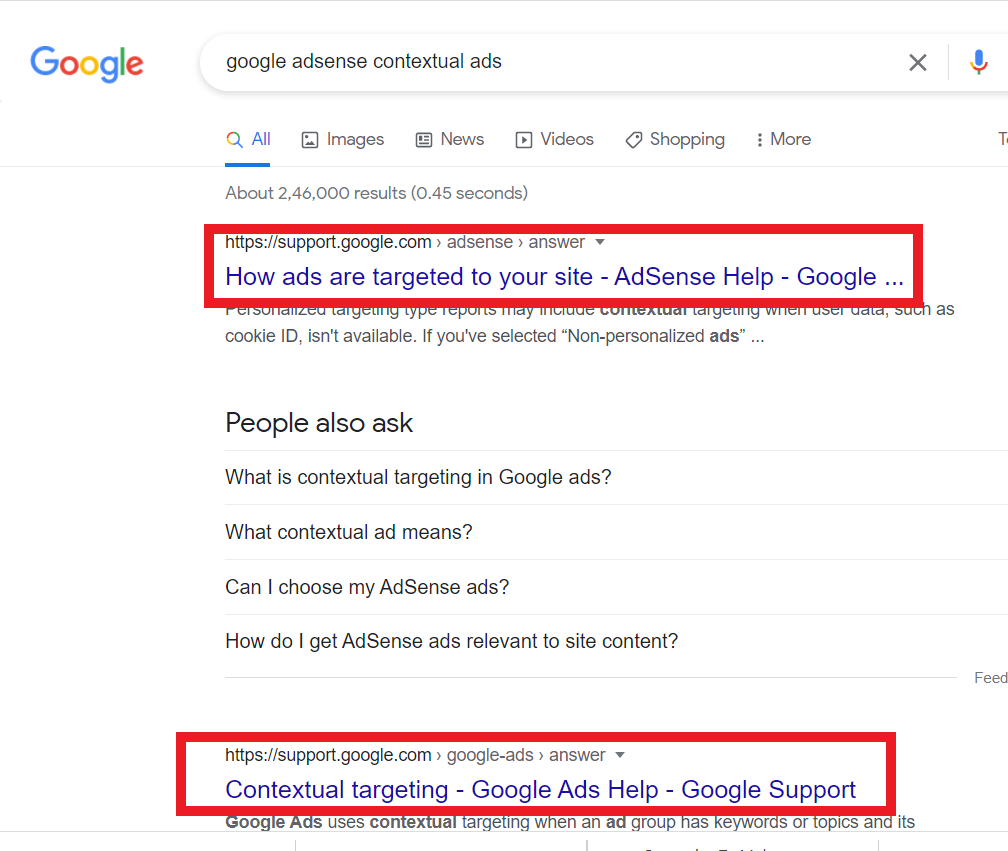 The commission you get is largely determined by the niche's competition and cost per click (CPC). The CPC might range from $0.20 to $15 in actuality.
Many bloggers also develop YouTube channels to enhance their blog's online reach.
This way you leverage your position through a combination of blogging and vlogging  and this can help you maximize AdSense income from two platforms.
---
3. Sponsorship Placements
A sponsor differs from a typical internet advertisement.
In this case sponsors prefer a prominent position on your blog, possibly with the sole right to promote on your blog.
Sponsorship can take one of two forms:
1.Sponsors may pay you money to place their advertisements on your blog,or
2.Sponsors may simply pay you through free products in exchange for placing advertisements on your blog.
Either way, there's a huge advantage in this business for bloggers.
Because partnering with businesses opens up a slew of possibilities. It's not just money in exchange for a blog article.
Advertisers are willing to pay top bucks to reach a certain audience, and that's where you come in.
You can ask sponsors to share their messages on your site instead of using Google AdSense. It could be in the form of sponsored posts, a border spot on your blog, or anything else.
In fact, Themeisle.com recommends you set up a sponsor page and media kit on your site  
Eventually, many bloggers find it better to completely embrace sponsored placements in the long run.
---
4. Personal Digital Products
 Digital products include a variety of materials , including e-books, digital graphics, digital art, training courses, printables, spreadsheets, PDF reports, and software among many other options.
And the little known secret is, you can produce most of these on your own, with a little knowhow and upskilling.
Although digital products cannot be handled, tasted, or touched, they are universally consumed by everyone. Whether they're conscious of it or not.
Want to know another unknown nugget for online success?
Many bloggers develop entire businesses around virtual digital products. Or they supplement their earnings from physical products with digital ones.That's because of their evergreen popularity and ease of distribution.
Digital products, remember, have a unique advantage.
They can be created once. And then sold endlessly to different buyers. There is no need to re-create the product, or restock your warehouse.
Your blog can be used as a market for all of your new products, as well as to draw attention to your current ones.
Yes, fact be known; it takes some time effort to get there. Besides you'll have to keep tweaking to upgrade what you've once developed. But finally once you start succeeding, it's a great promise of massive online income.
And the beauty of  personal products is that they can continue to generate revenue even when you are sleeping!
---
5.Selling Ebooks
When it comes to generating digital products, ebooks are the easiest choice.
For one,they're not difficult to write and produce. In fact, you can convert your own blog into a nice book and publish it.And surprisingly there is a good online demand for such books too.
Now you're wondering how this is done. Right?
That's not so difficult, really.
When you've been blogging for sometime, you can compile a collection of your older blog entries and convert them into book chapters.
Some helpful tips for converting your own blog posts into an ebook:
1. Collect content from all your posts. Copy and paste the text from the selected posts into a  Word Document or Google Docs document.
2.Make a table of contents for your ebook.
3. Fill your eBook with high quality content  from your posts.
4.Check for legibility and correctness by revising and editing.
5.Use a tool like  Visme or Canva to create a cover and a PDF of your ebook.
And you're good to go.
You may also use ebook generating software like Bit.ai and Scrivener to help you create an ebook.
With a simple plugin, selling digital products like ebooks on WordPress is pretty easy. The Ebook Store Plugin  for WordPress is a plugin that helps you sell ebooks to your blog followers.
---
6. Native Advertising
Here's an interesting statistic about online ads. According to surveymonkey.com ,"Nearly 3 out of every 4 users (74%) think there are too many ads. The number grows to 78% for adults 35+ years old".
Essentialy,online users dislike irrelevant ads, and they're repelled by their frequency.
As consumers become less receptive to traditional forms of advertising, Fortune 500 companies and consumer start-ups are investing more in content marketing and non-disruptive ad formats.
Now, native advertising is an excellent example of this.
What's so unique about native advertising ?
Primarily native advertising is not meant to look like an ad at all.
Instead, the ad content is made to blend in with the rest of the page's content.
What happens then?
This format of advertising makes it more difficult for the user to ignore the ad.
Because it integrates advertising and content , this type of digital advertising has a significant promise for businesses.
The significance is in the concealed power of native advertising, because it allows businesses to communicate with customers in a format that consumers prefer.
 As a result,native advertising is much less invasive and disturbing to the audience than other ad types, such as banner ads.
No wonder, statistics show that  native advertisements generate 20-60% more interaction than typical banner ads.
Native ads have the ability to boost conversions as well. That's why, by 2020, the global industry for native advertising is anticipated to be annually worth more than $85 billion.
Native ads are often displayed as:
1.Advertisements  in the news-feeds of social media platforms like Facebook, Instagram, etc.
2.Sponsored  advertisements  that appear at the top or side of Google's search results pages(SERP)
3.Advertisements that display as suggested articles.
I'd strongly recommend new bloggers to get acquainted with native advertising,in order to generate good revenues sooner than later.
Taboola, Outbrain, and MGID are some well known ad networks that help blogs in the realm of native advertising
---
7. Offer Services On Your Blog
Things like advertising sales, AdSense, and affiliate marketing often seem to take precedence when it comes to blog monetization.
However, remember that there's a growing number of bloggers delivering services as well,through their blog.
In reality, almost any popular site in any niche has the potential to be monetized through services of some sort.
And every blogger has an inherent potential to promote services through their blog. How ?
Let's lift the veil here a bit.
As a blogger, you're already familiar with the intricacies of creating blog posts.
Also,many businesses want blogging assistance in order to raise brand awareness and broaden their online reach. So there's a 'need-gap' which must be filled.
 And how exactly does your blog qualify to fill this need-gap?  
Your blog qualifies when you  turn your blogging expertise into the desired service offering.
Here's the deal.
As a blog owner, you already have a following who visits your site on a regular basis.
They want  to see what you have to say. And without their conscious awareness, they're already eager to buy from you. Simply because they're your committed readers, they accept your word about a lot of things.
Now, are you aware if you don't leverage this opportunity group, there's a  risk for your blog's earning potential?
Consider this.
You could be missing out on enthusiastic readers who want to collaborate with you if you don't sell your services on your site.And your competitors will be only too glad to tap into them!
So what services can you provide on your blog?
You can provide a variety of services depending on your abilities.
You can offer article writing, template creation, digital product creation, SEO, content marketing services.And the list goes on.
Like I said,it depends on your skills.And you do have some awesome skills. Search them out, hone them.Leverage them by putting out your services on your blog.
Offering services not only allows you to earn money, but it also gives you more opportunities to practise your abilities.
 I know bloggers who have  made more than $2000 per month solely by offering services on their blogs.
In truth, starting your own service business is rather simple. You simply need to establish a page on your blog and list the services you provide.
 Just make sure that the link to that page is clearly displayed in prominent spaces on your blog, for optimum visibility.
---
8. Get Paid to Write Reviews
You can make money on your blog by writing paid reviews, which sounds similar to sponsored posts. 
Yet, this is a completely different income technique than a tech review blog with affiliate links.
Here, you make an earning while writing a product review.
The best part of this system?
You get to choose and try out products related to your niche for free.Most importantly,these are products which your target audience is interested in.
 Alongside that, you  get paid for writing these reviews. How cool is that!
Sites like AgencyAnalytics or Blogsvertise   are the best ways to get paid to write product reviews on your own blog rather than someone else's.
Lets consider the example of  Blogvertise .
On Blogvertise, jobs/ tasks are assigned to you, which you can either accept, or reject. And these jobs entail visiting a website,examining the products or services, and then writing a blog review about it.
There are some conditions, though. For example each Blogvertise review post must be at least 75 words long, and contain at least three links back to the reviewed site.
You can contact businesses on your own and check for paid reviews. Websites like ResultFirst or PayPerPost can also help you connect with businesses that might be interested.
---
9. Sell Sponsored Blog Posts
Many bloggers may not want to display advertisements to their readers, and hence they're unsure about monetizing a blog without them.
The fact is this.
You do lose some control over the content displayed on your blog when you use ad networks.
Also,ads can irritate or annoy some readers, and an increasing number of viewers are using ad blockers, which reduces your potential earnings.
So there's a way out. It's called sponsored blog posts.
Sponsorships are in fact, a terrific option to make money from a blog.
It's similar to having a guest post on your site. The only difference is that you are compensated for it. You also place links to the brand, and you need to mention that it's a sponsored post or sponsored review.
Now you're wondering why would anyone flock to sponsored posts?
The truth is that your readers have faith in you.
And they're ready  to trust what you offer them, so that their lives get better, in the bargain.
Now the question remains, if you have a captive audience, and a good sponsor, why not be rewarded for your efforts?
Remember,the purpose of a sponsored post is to inform, educate, or raise brand exposure.
Point to note here. Sponsored posts usually consist of a single article.
But they can also include several posts, social media shares, email marketing, and shared experiences.
Now the benefits. How does your sponsor benefit from this arrangement? And what do you stand to gain?
Well, your sponsor neatly accomplishes their aim by leveraging  your website and your social media profiles, to expand their brand awareness.
And you benefit from this tie-up,because the sponsor pays you to represent their product in your content, and advertise it to your followers.
It's an ultimate win-win for both parties.
Just in case you want further help; there are sponsorship networks that work in this domain. A few examples are Real Clever, Linqa, and Tap Influence.
You may check them out if you like.
---
10. Start Coaching Through Your Blog
Coaching is another huge opportunity open to bloggers.
But,a large majority of bloggers believe that coaching is way outside their zone of abilities.
They believe that getting started is extremely difficult and that no one would be interested in their coaching services. Consequently, without a second thought, they leave it to the professionals.
Why should you even consider coaching through your blog?
Good question. But consider this.
You're a proud blog owner.Your laboriously created blog is  a goldmine of possibilities.
And you've already got a captive clientele. So why not give yourself a chance to offer coaching services based on your blog's topic?
 If people are coming to you for assistance for say, starting a new blog, they are ideal clients for your new "blogging coaching services".
Remember, identifying the correct topic to coach on, is the first step to your successful coaching business.
So focus on writing about your coaching services, and what fascinates your target audience. Not just on what interests you.
With coaching sessions, you may provide one-on-one assistance to your audience in whichever field you specialise in.
The easiest way is to start a coaching biz on your blog?
Just set up a coaching – scheduling form on your blog, so readers can book coaching sessions right from your  blog and save time.
Make things easier for your subscribers this way.
Here are some concrete steps to proceed with your coaching service:
1.Schedule a first consultation. This will allow you to learn more about your client and determine what kind of assistance they require, as well as whether or not your coaching services are a good fit for them.
2.Confirm their plan. Based on your discussion, double-check that they selected the correct plan and provide them the service terms and payment information.
3.Draw out a strategy for the client. Use the original inquiry form and your notes from your initial interaction.
4. One On One coaching . Schedule a 25-30 minute session with your client to go through the plan and make sure it includes everything they need, and that they are satisfied with the follow-up.
5.Schedule a follow up. It's a great way to monitor  and review your progress. Then, based on the progress made, re-evaluate the program.
Eventually, as time passes, you may find many more clients lining up for your coaching services.
That's just about how most successful coaching blogs have started out too.
---
11. Setup A Consulting Business
Consulting is another option to make money from your blog while also sharing your knowledge.
 If you have a certain skill, this is rather straightforward.
Why's that? 
Here's why. As an online expert in your field, you already know about defining a company's digital brand.
And you understand how to use  technology to increase brand awareness.
What should you do next? 
Use your blog for consultancy. And if you don't have a blog for that yet, then create a blog.
Here's the thing.
Companies are constantly on the lookout for trustworthy online consulting .And your blog can generate clicks and conversions if you adopt the correct strategy .
Remember this.
A consultant, rather than delivering services, presents smart ideas  and strategies to help their customers become much more productive.
The objective is that if you have a blog on a useful topic, you can sell your services as a consultant to other businesses. As a result, you can earn money by sharing knowledge.
The trickiest challenge,however, is finding clients.
But if your blog's content is already  engaging the right audience,then finding clients is all the more easier.
And the best part of online consultancy?
There is no initial investment.
All you do is, on your existing blog, you begin offering consultancy services. You just need to create a website with a form for visitors to fill out.
That way, they can obtain further details.And your business gets rolling.
---
Conclusion
You can monetise your blog through a variety of strategies. You can choose the strategy that best suits your style, based on your level of blogging, and the type of blog you have.
There are numerous ways to earn money from blogging, but I recommend not getting overwhelmed, and instead applying them one at a time.
All of the above strategies are excellent, and you should experiment to see which ones perform best for your particular niche.