Blogging is considered important for affiliate marketing, and for increasing its profitability (regardless of the type of affiliate plan you have). It's also an important part of your marketing plan for raising brand awareness and driving traffic back to your website.
A lot of online aspirants are always curious to know which is more profitable? Is it blogging, or is it affiliate marketing that's going to pave their way to riches?
Well here's the deal.
There are about 600 million blogs out of over 1.7 billion web pages on the internet today. And it is a known fact that 84% of bloggers  use affiliate marketing to grow their audience.
So you see success is a combination of both- blogging, and affiliate marketing for a whopping 84% of bloggers.
Take my word- blogging works. And blogging has a long future.
Let's see some of the benefits of blogging for affiliate marketing as well as the elements of a great affiliate blog post, so you can leverage your blog's power for profit.
First, a look at the major benefits of blogging for affiliate marketing:
---
1. Blogs Help Your Target Audience Trust You.
Blogging allows you to engage with your target audience on a more personal level.
Soon, you'll start to be viewed as an authority in your business if you continually put out high-quality posts for your readers.
However, gaining people's trust cannot be pressured.
So it's better not to drive rush-sales tactics, or hastily churn out dozens of articles for the greed of speedy sales.
For the best results, I suggest let's be patient and honest.
---
2. Having A Strong Social Media Presence Helps.
One of the biggest benefits of blogging for affiliate marketing is that it seamlessly integrates with your social media activities.
According to Roamingspices.com "Social media is a great way to build an active following. It helps new readers connect with you and discover your blog, and it's a really effective way to interact and network with others who are involved or interested in your niche."
People who view, and like your content on social media are prompted to share it with their followers, resulting in increased traffic to your website.
Implication for you?
Increased brand exposure, of course.
Secondly, on your blog, you can communicate with followers who leave comments on your postings, which further reinforces trust and brand loyalty.
---
3. Your Blog Is A Potential Traffic Generator
All roads lead to Rome.
That means every good article from you will lead audiences back to your website.
That will happen regardless of SEO to help visitors find your blog.
More visitors will come to you if you share more relevant and search-engine-optimized blogs with a huge global audience.
After you've figured out which pieces of your content are the most popular, you can start writing more articles about those same topics. And then you can also examine other important actions for monetizing your blog with affiliate marketing.
That's a great way to leverage your own success.
---
4. Blogging Helps You Rank Higher In Search Engines.
Updated and relevant posts are always in demand by search engines like Google.
 By publishing a blog, you're providing new content for the search engines to crawl and index. This helps the search engine too because it's cost-effective for both parties.
What's the most critical action for you to take for this to happen?
To begin with, you need to do good keyword research.
This helps to identify suitable high-volume, low-competition keywords on which to base your articles.
 However, stuffing your content with an "overdose" of keywords is always counterproductive and Google is quick to punish you if you do that.
---
5.Effect Of High-Quality Articles
Your readers are more inclined to buy from you if you consistently put out high-quality content. Content that adds immense meaning to their lives benefits them or reduces their pain points.
Eventually, quality content is all about your readers, not yourself.
Guess what any reader will appreciate?
They'll appreciate it if you don't recklessly direct them to a website filled with links.
They'll appreciate it if you send them blog entries that complement your product or service. This will enhance your credibility in their eyes for a long time to come.
Quality content is eventually essential for satisfying your visitors and preserving their loyalty so they will buy from you again. Long-term income and profitability rely heavily on high-quality content.
---
6.Ingredients of a Successful Affiliate Marketing Blog Post
Essentially, a blog for affiliate marketing is dedicated to promoting affiliate products.
While the post focuses on delivering useful information, the ultimate goal is to generate purchases.
Interestingly, you can promote  a single, or multiple affiliate products on your blog
Some strategic types of posts you should include in your blog are:
1.Product Reviews in an affiliate marketing blog.
2.Product demonstration posts.
3: How-To-Posts.
Remember to create superb headlines because if they are eye-catching you'll automatically capture more visitors. We'll cover this again in the following section.
Well, let's look at the components of an effective blog post, now that we've confirmed the relevance of blogs in increasing engagement:
---
1. A Catchy Headline:
A compelling headline is critical for drawing readers into an article, advertising, or social media post.
A headline has to be carefully crafted to attract the attention of the reader and entice them to read what follows.
When headlines don't reflect the content of the article, they fail.
Also, when the headline is longer than 50-60 characters , search engines overlook the rest of the headline. And in the long term, this may lower conversion rates and reduce the search engine appeal you seek.
As a simple guideline, it's helpful to center your headline around these aspects:-
•Ask a question to pique people's interests.
•Make good use of numbers.
•Use SEO keywords in a natural way.
•Make a commitment (and honor it).
•Write intriguing titles without falling into the clickbait trap.
•Use vivid and descriptive language to grab the reader's attention.
•Be succinct.
While crafting a headline always consider what you'd want to see as a visitor if you were looking for a solution to your problem.
---
2. Clear And Indicative Subheadings
A big wall of text can be intimidating because online consumers are bombarded by media. So they want to digest it fast. And so they skip anything that takes more than 10 seconds to process.
That's where your subheadings come in.
Subheadings are essential components of blog posts since they highlight key aspects of the issue, and improve the article's scannability.
When you're stuck on a subheading, try to connect it to the main heading of your post to stay on course.
In general, a 750-word blog entry should have at least three subheadings.
This is particularly handy for lengthier blogs. Subheads help your reader and guide him through the text.
They help the reader move on to the next stage by breaking up your material.
---
3. Content That Is Well-Researched And Adds Value:
Invariably readers will recognize and pay the most attention to the "core substance" of your article.
To make your claim more trustworthy, back it up with statistics or research from industry experts.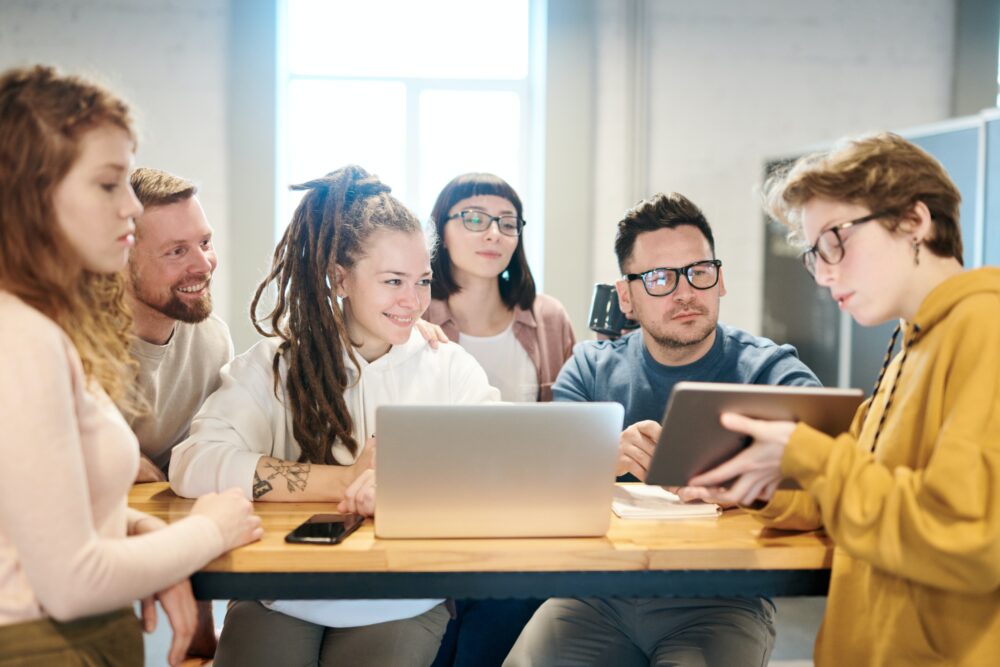 You can find great references in your own niche journals, magazines, forums, and websites.
For statistical data, you can refer to any online statistic site. There are many such like:-
1.Statistica.com
2. Tableau
3. wizdee
4.Statistix
5. Revolution R enterprise
Instead of a list of features, provide your readers real-life instances of how your product or service will improve their lives.
The actual content comes first, which is the core of the article. There should be no concessions here. Give it your all.
You have to ensure that the article's substance is entirely original. For educating yourself you should look over others' blogs, but not reproduce them. Present your thoughts in your own words and style.
Wherever feasible, include images. Too much text can bore your readers, so you'll need some visual stimulation to keep them interested.
---
4. Call To Action:
A call to action, often known as a CTA, is a button, image, or text link that leads users to the next step in their website experience.
These phases are referred to as the conversion funnel in SEO.
Without a CTA, the visitor is unsure of what to do next, and you risk losing them to a competitor's website.
Here's the interesting thing.
Without noticing it, with your CTA you may be trying to persuade your potential client to do something.
One of the most important aspects of a successful blog article is letting readers know if they should buy right now, study more, download an eBook, and so on. Learn more about CTA in this article.
---
5. Use Awesome Visual Content:
Using images that are consistent with your brand can be quite engaging. There are numerous advantages to using imagery:
• They aid in the creation of an emotional connection with readers.
• Many people are visual learners, thus images aid in the most effective telling of your tale.
• Blogs with images generate higher interaction than those without.
• Posts with relevant photographs fare better in search engines.
With so much said, before moving on to the next section, I must emphasize that there are numerous marketing benefits to blogging.
So never undervalue the value of blogging in terms of increasing engagement.
It will be worthwhile if you make the effort to learn about your target audience, conduct keyword, and topic research, produce appealing copy, and promote it on social media.
And promotion happens through links.
This brings us to the other important aspect of affiliate links
---
6.Affiliate Links
An affiliate link is a  unique URL containing the affiliate's ID or username  Advertisers who participate in affiliate programs use these affiliate links to track visitors to their websites.
Affiliates (bloggers) are given a special link to the company's website when they join up.
If visitors to the affiliate (blogger's) site click on the commercials and are sent to the company's site, the affiliate (blogger) is paid a commission if a sale is made.
That's why you need to include these affiliate links on your blog.
---
7.How Do I Include Affiliate Links In My Blog Posts?
It can be a bit challenging for a newbie to insert affiliate links in a blog post, but it's not that difficult really.
For the sake of example, let's see how to include Amazon affiliate links in blog posts (though there are many other affiliate marketing companies like Amazon).
The best part of including any affiliate links in a blog post is that they help with SEO also.
You'll be adding Amazon affiliate links to your blog posts like a pro in no time if you put in a little more work and follow the steps below.
---
8.Inserting Amazon Affiliate Links into Your Blog Posts
It's actually quite simple to set up an Amazon affiliate account.
Indeed, links can connect to your existing Amazon account, removing the need for you to go through complicated steps or remember which profile to enter into, among other things. Once your account is set up, the process of finding and adding links is rather simple.
Here are some step-by-step directions on how to do it.
Step 1: Start Looking For Products To Promote.
On the Amazon homepage, you can search for products using the standard product search bar.
Now look for products that are related.
You must ensure that the products you're linking to, are related to your blog post's topic. For example, if you insert links for an auto and car blog to an infant care site, your posts are unlikely to be successful.
 Readers are considerably more likely to click and buy if you offer Amazon affiliate links for things that are relevant.
An Amazon Site Stripe appears at the top of your website if you have an Amazon affiliate account. The code for your affiliate links can be found here.
They'll already have your unique tag on them, so you'll get credit for the sales.
From there it's self-explanatory to add a link.
Unless you wish to insert an image with a clickable link, you should use the text-only link.
When you select one of these options, the link text will appear in the box.
 The full link option is the best because, it includes relevant keywords, which are essential for SEO.
And just in case, you have to use an image link, you can pick accordingly in the Site Stripe
Step 4 – Use That URL
Simply copy and paste the complete URL after it appears in the site stripe box. Next, you paste the link into your WordPress URL link field.
---
Related Posts
9 Crucial Secrets About Affiliate Marketing Known To Successful Bloggers
9 Ways To Promote Affiliate Programs To Your Target Audience That Have Worked
Important Actions To Take For Monetizing Your Blog With Affiliate Marketing
---
Conclusion
This article, by and large answers a lot of questions which include whether an affiliate marketing blog will generate income, how to write an affiliate blog post, or how to make money blogging with affiliate marketing.
Regardless of the scale of your affiliate business, you have, writing blog posts is essential for a multitude of reasons. It's a vital aspect of your affiliate marketing strategy for increasing brand awareness and returning visitors to your website.
Remember, a blog for affiliate marketing is essentially devoted to promoting affiliate items.
All you need is to create high-quality posts that are relevant to the product being promoted, and also aim to satisfy your readers. And then add affiliate links to those posts.
Each time someone clicks on that link to buy the product, the blogger receives a little commission.
The ultimate purpose of the post, though it focuses on providing good information, is to generate more affiliate sales.