Blogging by businesses and individuals helps attract new customers, improves Google ranking, builds trust with customers, and establishes your brand as an industry leader.
According to Growthbadger.com, about 70 million new blog posts are published each month on WordPress, along with about 77 million new comments.
Besides this each month, more than 409 million people view over 20 billion pages on WordPress.com sites. Moreover, at least 85% of B2C and 91% of B2B companies have a blog.
What does that say about the importance of blogging in the business world?
Quite a bit. Right?
So without much ado let's get into the top reasons why businesses and individuals should blog in 2022.
---
Enhance Your Brand Identity And Exposure
One of the best reasons to blog is that you give your readers a strong insight into your brand
Outbound marketing, on the other hand, sometimes overlooks this personal aspect.
What's undeniable is that readers can grasp your company's standard, and personality when you publish blogs.
So here's the thing.
"Blogging is an often-overlooked but inexpensive form of promotion".
Though blogging takes time to build your brand identification, it may be the greatest solution in the long run. That's because blogging allows your audience to emotionally and psychologically engage with your brand.
---
Best Reason For Blogging: Converting Leads
One of the best reasons for blogging is that the more posts and visitors your blog receives, the more leads you'll be able to produce.
And how do you do that?
Simply start adding a lead-generating call-to-action to each blog article for ensuring more leads.
Obviously, your first priority should be to increase blog traffic by posting a bunch of great content, (thereby enhancing SEO as well).
However, once your blog begins to receive traffic, you can begin to convert those visitors into leads.
I also suggest one or more of the following:-
1. Examine and identify some freebies in exchange for your readers' contact information.
2. Create a landing page for your readers to fill out their information in order to receive the freebies.
3.Create blog content that will help you drive traffic.
4.Include a pop-up or banner call-to-action in your blog posts that offer freebies.
5.Your visitors will fill out the form to acquire what you're selling if it's enticing enough. This way,you will obtain their personal details in exchange.
---
Blogging Helps Inform Your Customers
Everybody's hungry for information today.
And one of the most beneficial aspects of business blogging is that it allows you to educate your customers.
So using a blog, you can start by responding to the most frequently asked questions in your field. This allows you to communicate directly with your readers and inform them about your brand.
Guess what's really a great reason for blogging?
One best reason for blogging is that you can foresee problems that your readers may encounter. Based on this you begin to offer solutions
Also, since you've established your blog as a trustworthy source of knowledge for your viewers, you can begin explaining how your content can benefit them specifically.
---
Blogging For Social Media Marketing
Social media marketing is the practice of developing content for social media platforms in order to promote your products and/or services. This way you build a community with your target audience, and generate traffic to your business.
So a great reason for blogging is that can help you keep your social media sites active without having to rush around looking for new content.
If you have a team, you can discuss how they can drive traffic from social media to your blogs and vice versa.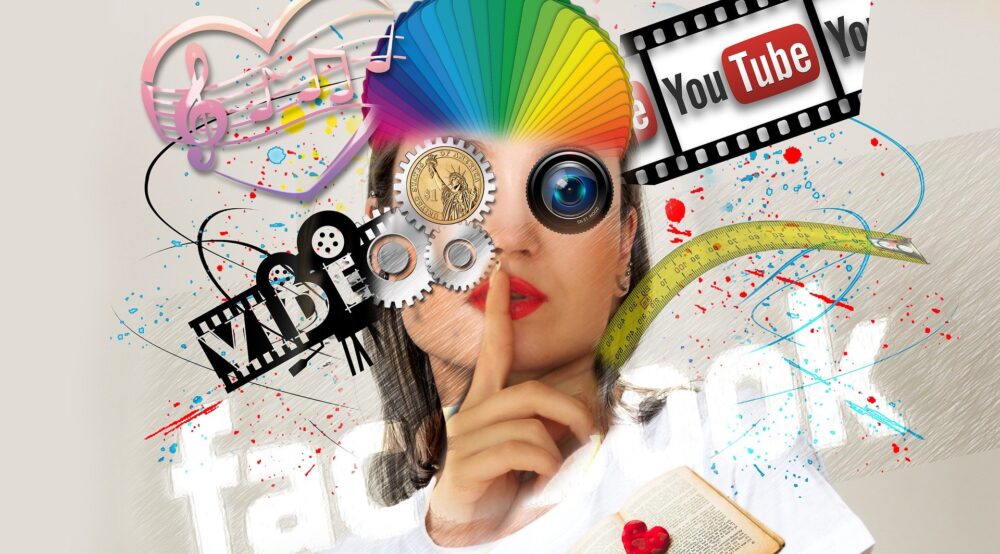 Remember that blogging is a long-term social media marketing tool.
In addition, using social media marketing in this manner will assist in driving traffic, generating links, growing domain authority, and increasing traffic rank.
Most importantly, it helps in gaining more subscribers.
---
Blogging And Traffic Generation.
You should take pains to write relevant content for your target audience using a blog. This will also assist you in increasing visitors to your blog.
One of the most important reasons why your brand requires a blog is that it allows you to respond to the questions that your potential consumers have.
According to existing data, businesses that blog frequently create more consumers than companies that do not blog at all.
This traffic can be used to convert readers into potential clients.
And besides, it goes without saying that the more visitors your blog receives, the more leads you can produce.
---
Reason For Blogging:Thought Clarity
One superb reason for blogging is that the process of writing itself allows you to arrange your thoughts. Through blogging, you can rethink, re-write, remove, revise, and change your beliefs.
The beauty of blogging is that it gives you time to consider the cohesion and logic of your thoughts.
And what's more? According emergingedtech.com, a site devoted to inspiring educators, blogging helps sharpen the brain's functioning among students.
The practise of blogging can actually help you become a better thinker by becoming a part of your mental thought process in everyday life.
So how does that happen?
The fact is that bloggers are exposed to a variety of viewpoints while researching new blog post ideas. Blogging, like interacting with new people with various thoughts and perspectives, allows you to learn and broaden your horizons.
Besides, you have the added benefit of learning about diverse countries, ways of life, and ideas. That's because your affected audience could be the entire internet!
---
The Best Reason For Blogging- Money!
Blogging has nearly limitless potential.
So let's lift the veil here a bit.
Famous bloggers will tell you that one of the best reasons for blogging is that it affords them an awesome lifestyle. And that's simply because of the enormous revenue possible through blogging.
Bloggers with a large following, such as Ryan Robinson, who maintains a site about blogging, can earn up to $30,000 each month. Adam Enfroy, who started blogging on the business of blogging as a side hustle in 2019, has already made $1.5 million from his site.
In fact, blogs have always been more profitable than vlogs to date.And here's a glimpse of the earnings among the top 4 blogs on the internet :-
1.Arriana Huffington $ 250 M / year
2.Peter Rojas (Engadget ) $ 50 M / year
3.Rand Fishkin ( Moz ) $ 35 M/ year
4.Pete Cashmore (Mashable) $ 30 M/ year
In fact there are three important criteria for monetization of a blog
1.It's something you're good at and/or passionate about.
To grow an audience and earn money, blogs require a steady stream of high-quality content.
The reason is that when you're blogging about something you're passionate about, it will not only be more pleasurable, but it will also enhance your chances of making money.
2.Low levels of competitiveness.
Your niche should ideally be a less competitive field (though that's not mandatory).
The fact is that extremely popular blogs in your niche imply that there are others who profit from it already.
So what you need to examine is the keyword ranking difficulty, through well planned keyword research. If big-name businesses dominate the first page of search results, driving organic visitors will be more difficult.
So what's the solution to that?
Consider the popularity of keywords you've chosen.
How many site matches do you get for your keyword searches?
How many of the top 30 search results have websites that have been optimized?
What can you do to make things better?
Based on the content, create unique keywords for each page of your website. And keep the keyword intent in mind when you do this.

Most importantly, make sure you use the right keyword research tactics for beginners, including Google Ads Keyword Planner and other similar tools.
3.Possibility of monetization
Blogging for a living is not a get-rich-quick scheme. You'll be successful if you create content that your target audience wants to read and market your blog in the right places.
So what do you need to do?
Examine the monetization possibilities for each topic on your list.
Consider these questions "do businesses in that niche have paid ads on other blogs? Is there a large number of affiliate programs that sell things in the niche?" And if that's the case, most likely you're on the right lines.
Now here's the interesting thing.
You don't have to wait to start earning money from your website.
In reality, you should think about the monetization aspect even before buying a domain or establishing your first blog.
With this, you can rest assured that the time and work you put into your website was well spent.In fact you can start earning from a blog exactly like a busniness .
But here's where beginner bloggers err. They wait for their audience to make a beeline for their blogs.
Waiting for your target audience to go out of their way to find your blog won't work. It won't bring you the money you need to succeed either. Instead, providing them with really valuable content will.
---
Blogging And SERP Rankings
Every blogger wishes to appear high in Google searches. This is the purpose of a SERP (Search Engine Result Page).
A high SERP ranking means more visitors to your site.
Interestingly, one fantastic advantage of blogging on a regular basis is that you can interlink your products to the relevant articles when you have a large number of them.
And here's something crucial – relevance.
Relevance is another major factor that Google considers when ranking websites.
So if you have good relevant material on your business website, blogging can help you take it to the next level. This is why experts consider content marketing and SEO to be critical components of any marketing strategy.

Incidentally, Improving your SERP rankings has many contributing facets – and a word about the recent trends in SERP rankings.
To start with today, rich snippets are making a huge impact on improving your rankings.
A "rich snippet" appears when your content is really good. The rich snippet seems to precisely answer a specific query for visitors in a short paragraph. In such cases, Google places these rich snippets at the top of search results pages.
And what's the advantage?
Rich snippets (also known as featured snippets) are beneficial to organic traffic.
And the blogger deserves credit for it because he has earned that valuable snippet. In the end, it bodes well for your search engine results.
Eventually, I must say, providing valuable content with well-researched keywords is incredibly effective for improving your SERPs.
---
Blogging Does Personalize The Audience Connection
Oneof the best reasons for blogging is that as a business, you can connect with your site visitors through blogging.
Remember, readers simply love a story.
You can do this by sharing your own growth story, how you struggled, how you grew, and finally succeeded.
Or you can be upfront and candidly admit your current shortcomings.
You can even establish a personal connect by simply enabling feedback, and by asking your readers questions at the conclusion of your posts to start a conversation.
The important part is rapport.
You can build a rapport with your audience, build trust, and receive vital insight into what your customers want by evaluating and replying to reader comments.
That's why I recommend that you write on themes that your audience will be interested in, in addition to providing useful content. And for this, it's extremely important to have good knowledge about your target audience .
---
Reason For Blogging: Audience's Decision Making
When your customers sense that you're personally addressing their problems and worries, your communication feels more personal.
So, what exactly is my point?
Assure them that you are here to assist them and that you have the solution they seek.
Showcase your knowledge. Teach them what you believe they need to know, in order to make smarter decisions.
---
Blogging As An Industry Leader
Providing relevant, knowledgeable content in your blog posts can help you develop trust and clout in your market, no matter how tiny your brand is.
In fact, Forbes.com suggests mentioning your industry in your blogs to illustrate your standing in it.
This way you become a "go-to" resource for useful, insightful content over time, which can lead to increased consumer conversion rates.
This is particularly crucial for businesses seeking to establish a reputation in order to compete with big businesses.
---
Related Posts
What's The Likely Future Of Blogging? Or Is It A Thing of the Past?
Create Exceptional Content Consistently With These 8 Best Strategies
Daily Posts, Or Less?: How You Can Choose the Best Blog Posting Frequency
Failproof Checklist Before Publishing Blog Posts (11 Points)
---
Conclusion
In the initial days, blogging was a huge hit. It allowed people to freely express themselves online without having to understand technology or website development. As a result, a number of people began to do so on a regular basis.
Today, however, to some it appears that blogging has achieved its pinnacle, thanks to the rise of social media and influencer culture. That's also because almost everyone today has a blog in some form or another, and it is no longer limited to niche hobbies.
For those of you who haven't yet joined the blogger crowd, I say there are numerous benefits to blogging. These vary from brand exposure, to lead conversion to, helping your audience in decision making, and also improving your SERP rankings. The best personal benefit is that it aids in clarity and better expression of thought. And the promise of long-term benefits.