What does EAT stand for? EAT stands for expertise, authoritativeness and trust. These are factors that Google has laid down for ensuring that their customers enjoy a great user experience and get only quality content. Since many website owners are still grappling with issues related to EAT, it's important to understand crucial factors that matter behind the curtain.
So what are the factors on the Google EAT list that are most significant? The crucial factors that actually matter on the EAT checklist are expertise, authoritativeness, trustworthiness, useful content, clarity of purpose, contextual relevancy, quality backlinks, website security, and  excellent off-site and on-site reputation.
I've prepared a list of 9 crucial factors to improve the Google EAT score.
The idea is to leverage them one by one.
But before that, why is EAT so important for Google?
---
Importance Of EAT For Google
Google released its SQEG (Search Quality Evaluator Guidelines) document in 2015, where it spelt out the EAT concept initially. After that, there were two successive updates, once in July 2018, and then in May 2019.
According to experts, in either update, the whole emphasis of the EAT concept has been on useful, high-quality content.The idea is that invariably your content must benefit the visitor to your site.
Besides this, over time, Google has made every effort to progressively enhance the user experience for its customers. EAT is also a result of the converging purposes of "user experience" and "beneficial content".
Interestingly  E-A-T is not an algorithm. Instead, it's a process put in place to equip actual people(called human raters) with a reference document for determining the efficacy of its algorithms. That reference document is the Google "SQEG" (search quality evaluator's guidelines).
You can read up on SQEG in this post about improving the Google EAT score.
---
1.Expertise
According to the Oxford Dictionary "expert" is defined as "being very knowledgeable about or skilful in a particular area".
The 'E' in the E-A-T stands for 'expertise'.
Expertise has a lot to do with accuracy. And doubtlessly, Google wants to pretty much ensure that the information at the top of the SERPs is accurate.
Besides, certain content also falls under the crucial YMYL category of information.
YMYL stands for "your money your life". And one cannot afford to be inaccurate about YMYL content, because of the severity of its impact on the user's life.
You can find out more about YMYL and expertise in this article How To Improve "Expertise" in EAT Score (2021)
---
2.Authoritativeness
According to the Cambridge Dictionary, "authoritative" is defined as "having the power of special knowledge, or (of a person) showing the confidence of having special knowledge".
However, authoritativeness is also defined by the main content (MC) of the page or the entire website.
So how do you acquire that authoritativeness?
Well, reputation is a major factor deciding your authoritativeness. 
What other reputed sites and sources say about your content matters enormously. For instance, if you can get a mention of your site on Wikipedia, it's a great sign of your authoritativeness.The more high reputation sites mention you, the better it is for your authoritativeness.
Now here's the thing.
This takes time. Authoritativeness requires a finite gestation period for it to manifest for the readers and the search engines.
High-quality backlinks are also a big signal for authoritativeness in the SEO realm.
It just goes to show that your site is considered worthy enough to be linked to by reputed sites in that domain.
That is the reason you find sites depending on paid (or manipulated) backlinks suddenly sliding downwards. That's because Google is smart enough to differentiate between organic, and "manipulated" authoritativeness, through purchased backlinks. And consequently, they're penalised by Google.
---
3.Trustworthiness
According to  Ethics.org.au, trustworthiness means "that people in your organisation behave ethically because it's the right thing to do, not because it will make people trust them again. A reputation for trustworthiness is, again, not something you can just anoint yourself with".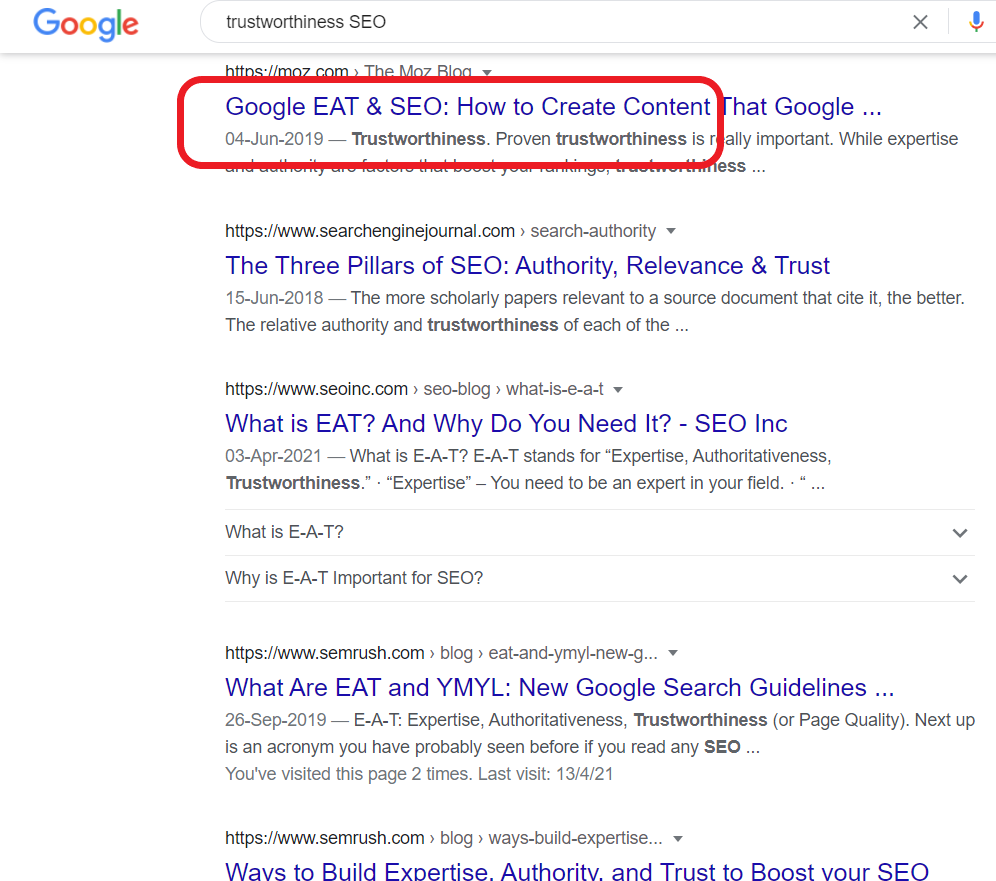 Fundamentally, trustworthiness means credibility. It's a matter of honour in delivering on your promise.
And reputation is proven when you can consistently claim to be relied on as "legitimate, honest, and forthright".
For the online business owner trustworthiness, is also evidenced through:-
1.Clear terms of service, and privacy policy.
2.Identifiable website owner.
3. Proof of a physical address, and contact information
4.Reviews on trustworthy sites.
5. Consistent, factually correct information.
---
4. Useful Content
Your content conveys much more about your expertise and authoritativeness than any other factor. For one, it must prove that enough effort and meticulous research has gone into your content.
Readers prefer content that can be relied upon, which means that it's factually correct and updated. Even small errors, like grammar and spelling, can say a lot about your credibility.
So if you're aware of such errors don't leave them unattended. You need to address them and remove them quickly.
Readability is another huge factor that can attract or repel visitors.
Your language and sentence construction should make reading an easy job.
Don't make your visitor strain hard to understand every sentence. Make sure your content is easy to understand. Otherwise, your reader is likely to make a quick exit from your site.
Remember small differences can make a big difference in things these matters.
Most importantly, your site should also benefit the person using your content.
Your content should be genuinely useful to him. It certainly cannot be just any mishmash of ideas hastily slapped together for the sake of posting "stuff" on your site. That's being inconsiderate toward the reader, and irresponsible toward your brand.
 And do make sure your pages function the way they are designed to. This includes the crucial aspect of page loading speed.
Users should not be unnecessarily subjected to spam-type commercials and pop-up ads that interrupt their page experience.
Increased traffic and click-through rates, as well as a lower bounce rate and better visibility, can all be attributed to optimised content. So ensure that your content is well optimised.
In case there is technical-scientific, or medical or legal content on your site, it squarely falls in the YMYL category. So make sure that such data is expert-reviewed and carries consensus in the appropriate domain.
---
5.Clear Purpose
Purpose and relevancy of content are close cousins and they must form the foundation for creating content in the first place. That is, after you've decided the usefulness of your content first.
The main content of a page should be easily accessible and immediately useable.
So here are some important factors to stick to in order to maintain your purpose as the centre point of your content:-
1.Make sure that your purpose becomes evident to the visitor from a single glance at your site.
2. Be careful to remove all pages that are not useful to your audience. Particularly commercial pages.
3. Review your site repeatedly and see how well your page fulfils its intended purpose.
4. An extremely critical issue is to be clear that visitors are not misled into clicking on advertisements and pop-up ads. Such ads should be sufficiently well-labelled for enabling your reader's discretion.
5.Your main content must clearly stand out in contrast to ads and supplementary content.
---
6.Contextual Relevancy
For the web user, relevant content is informative, engaging, helpful, or entertaining. This is why search engine results pages (SERPs) prioritise websites that use this type of content.
Relevance is essentially sticking tightly to the context of your topic. For example, if your site is about "kitchenware" then you cannot be creating content about "solar roofing solutions".
Essentially, the subject of your niche must consistently be in sync with the content you're regularly putting out.
Most importantly, relevance is knowing who you're writing for, and what their difficulties and needs are.
Now is there a connection between content relevance and your target audience? Well yes.
Relevance first requires you to be well acquainted with your audience. Because once you know your audience well, you'll wind up writing more relevant and helpful posts.
Once you're clear about the needs of your target audience, by default you'll find yourself identifying with your audience and creating content for them.Not for yourself.
Interestingly relevance doesn't just stop at content. Along with content,it's also important to generate quality backlinks to relevant sites in your niche.
---
7. Quality Backlinks
Quite simply, backlinks are links from other prominent sites that connect back to your site.And backlinks are seen by Google as a vote of confidence for your site.
This means that your site is valued by search engines, and considered 'promote-worthy' for its content, authority, and relevance.
However bad quality links are swiftly "rewarded" with penalties by Google because they smack of manipulation and poor ethics. So you need to avoid backlinks from private blog networks, link farms, and auto link-building schemes.
In case other sites link up to your website, it reflects positively on authority and expertise, and it also increases your domain authority. You can check your domain authority through tools like SemRush.
You can get greater insight into backlinks through this article on the importance of backlinks
---
8.Site Security
Site security has assumed great importance of late, because Google wants to ensure that its customers are not harmed by malicious content on your site.
It could also become a ranking factor as,with the introduction of the Page Experience Update since May 2021.
So you need to ensure the following crucial aspects are positively addressed:-
HTTPS.
HTTPS is a must on your site. And it is implemented through an SSL certificate. For more than two decades, SSL (Secure Sockets Layer) certificates have been in vogue to ensure that your website- visitor's sensitive information is transmitted only over a secure network.
SSL certificates encrypt sensitive data including credit card numbers, usernames, and passwords. They also help to keep data safe while being transferred between servers.
Maintenance.
Ensure that your site is regularly maintained. That's because maintenance consistently resolves pending security issues on your site.
No Hacking.
See to it that your site doesn't have any hacked pages. The moment your site is hacked, Google automatically places a red warning page that informs your visitors of the hacking.
Eventually, you stand to lose your credibility, ranking and hard-earned reputation in a matter of moments.
Perhaps the best action you can take is to create a Google Search Console account that informs you if your site has been hacked.
Monitor The Comments Section.
Make sure that spammers do not abuse your site through the comments section.
Why?
Because they can post deceptive content and links on your site, in order to obtain more traffic on their sites.
---
9.Reputation
Reputation is of two types; "off-site reputation, and on-site reputation."
Off-Site Reputation. Google decides your off-site reputation by inputs from external sources, other than your site. These inputs tell Google what your trustworthiness is, particularly in YMYL subjects.
On-Site Reputation. This reputation is picked off directly from your website by Google. And it depends on what your own site is telling Google constantly about your expertise, knowledge, and training levels.
So one of the best ways to improve your reputation signals is to prominently display your credentials like:-
1.Awards won.
2.Professional organisations you belong to.
3.Proof of your trustworthiness and expertise.
4.Testimonials supporting your claims.
---
Conclusion
The factors discussed in this article are crucial for satisfying Google EAT criteria. And you as a website owner need to get involved with them. Google, on its part, is being loyal to its customers, that is the online visitors on your site.
Also for sake of common sense, let's accept the fact that Google is not duty-bound to be loyal to you as a website owner.
More importantly, the Search Quality evaluator guidelines are just another set of Google's "ever-evolving" metrics, created by Google for furthering its own objectives of user experience and quality content. Surely these metrics will change with time too.
But I'm confident with this article, things are pretty much clear about what's expected of bloggers and site owners, in order to succeed with content according to the SQEG guidelines.