"What to do after learning affiliate marketing?" is a common question many aspiring affiliate marketers ask once they've finished with their learning.
Now comes the time for applying the learning they have absorbed with effort.
However, a lot of new affiliate marketers, who spend time learning affiliate marketing quit hastily. That's when they don't find results quick enough.
But this is where they go wrong because the online selling business (mostly through affiliates) is booming.
Statista reports that in 2020 alone, over two billion people purchased goods or services online and e-retail sales surpassed $4.2 trillion dollars worldwide.
So I would say don't give up on affiliate marketing in a hurry.
And in case you're one of those who're wondering "What to do after learning affiliate marketing?" then this post is for you.
So let's roll.
---
The Process Of Affiliate Marketing
The process of promoting and selling another company's products or services in exchange for a commission is known as affiliate marketing.
Although the idea is quite straightforward, the actual procedure can include many moving parts.
However, affiliate marketing is really just a way to make money by selling other people's goods.
---
The Advantages Of Affiliate Marketing
With the help of affiliate marketing, you can sell a product successfully on a small budget.
Additionally, you have assured a large return on your investment with little effort, little time, and little risk.
Eventually, you also boost customer awareness of your brand, leading to business expansion.
When you wonder about what to do after learning affiliate marketing, there are a host of things to follow up on.
Let's take them one by one.
---
1. Select A Niche And A Platform.
You must possess influence in order to be an affiliate.
The greatest approach to gaining influence is to start a website or blog that specializes in a particular niche.
Whatever your area of expertise; finance, wellness, marketing, or even dogs—a niche website will help you grow your following and increase your influence.
It is true that affiliate marketing networks allow you to make passive money.
However, it's crucial to select the most lucrative and profitable sectors.
This way you can differentiate your business from the competition, using the best affiliate marketing niches. Additionally, it can assist you with long-term business scaling.
---
2.Cultivate An Audience After you Learn Affiliate marketing.
Any blog or website benefits greatly from having a sizable, interested audience.
Making affiliate sales is made easier when readers and viewers interact with your content.
That's why knowing who your target audience is, becomes the best strategy to grow an audience.
The good news is that you can identify your target market by investigating your competition and tracking your traffic.
Engaging with subscribers and consumers directly is an even better method for gathering first-hand information. This often requires you to create a close group of subscribers.
Following the creation of this group, you can grow your devoted online audience with emails and content that is specifically targeted.
By giving your audience an incentive to read and engage with your content, you can also encourage them to buy the things you recommend.
---
3.Join A Programme For Affiliates.
Joining an affiliate program is the easiest method to begin using affiliate marketing.
The best resources for this, include programs like
Amazon Associates.
ClickBank
eBay Partner Network.
Commission Junction (CJ)
Awin.
Rakuten Associate
Interestingly, when you register with these programs, you will receive an affiliate link with a special ID. You can then incorporate this link into your content.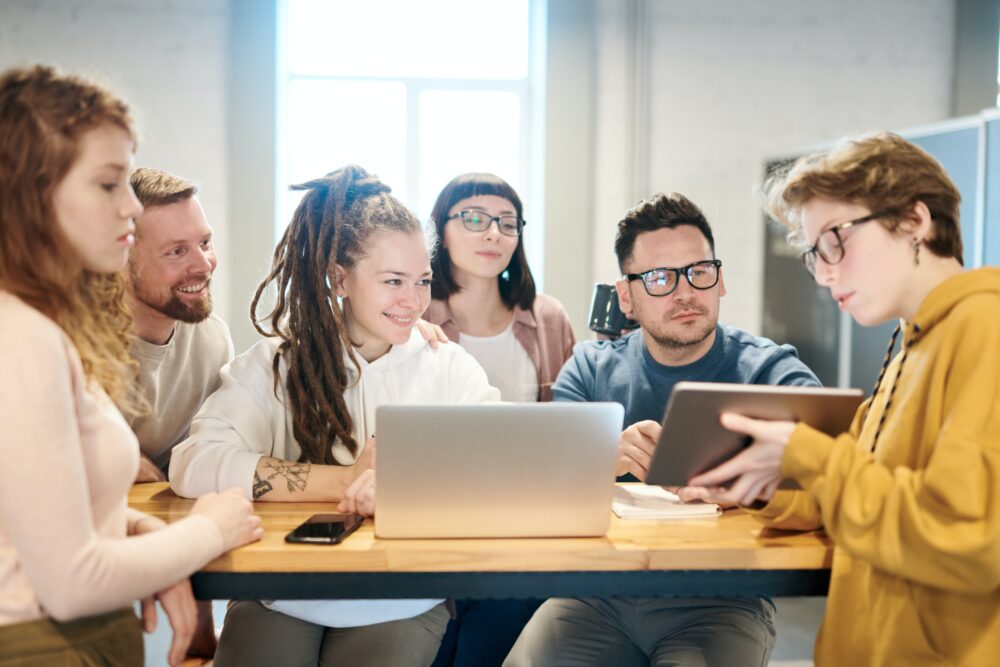 Typically, there are no up-front fees involved in joining an affiliate program. But how you market the products often determines your variable ongoing costs.
Besides, you will be responsible for paying the fees associated with running advertisements or outsourcing content.
---
4. Once You learn Affiliate Marketing, Select The Right Products
When it comes to affiliate marketing, there are two crucial guidelines:
• Only Promote What You Know Well.
As an affiliate, only recommend products you are intimately familiar with. Don't promote a product if you don't believe in it and don't think it will benefit people.
• Don't Be An Aggressive Salesman.
Never advise someone to purchase a product outright. Always make product recommendations based on what you've experienced yourself.
In fact, a successful affiliate marketing strategy also means selecting the proper product to promote. And this inevitably involves partnering with the right business, cultivating relationships, and updating content.
How then do you decide which affiliate products to buy?
Well, here's what you do:-
1. First feature products that are relevant to your niche.
2. Look for programs with appropriate commission rates.
3. Learn how long cookies last.
4. Watch out for traffic blockages.
---
5. Create Epic Content To Promote Your Affiliate Products.
One of your crucial tasks as an affiliate marketer is also to educate and enlighten your audience in order to support the promotion of particular products.
This way when you are sincere with your readers, your affiliate marketing website functions well. For instance, if a company offers a product that you didn't like, you should be honest about it, and express it to your readers.
Make every effort to offer the target audience unbiased assessments that will aid in the decision-making process.
Additionally, this will also improve how well search engines rank your website.
---
6.Drive High Quality Traffic To Your Affiliate Site
When it comes to affiliate marketing, high-quality traffic helps enormously in the achievement of your objectives.
And traffic is said to be of high quality if it converts (generates sales). If it doesn't convert, you'll need to make some adjustments.
As you might expect, driving focused, high-quality traffic to your website is crucial. Targeted readers are more inclined to share the content on your website, which will increase the number of backlinks to it.
Your website's search engine rankings eventually benefits from high-quality traffic.
And the most effective strategy to drive high-quality traffic to your affiliate website is:
Offer content that is valuable.
Use social media more frequently.
Guest-post on blogs in your industry.
Improve the links on your website.
---
7. Get Clicks On Your Affiliate Links.
Affiliate links are distinctive URLs that belong to a certain affiliate.
These links keep track of the affiliate's login or ID. They also allow the affiliates to receive credit for the traffic they send to the websites of the advertisers.
Eventually, the affiliates (you) are compensated when users of the affiliate links take actions leading to sales.
Finally, for such sales advertisers pay commissions to you.
Hence the best way for promoting your affiliate links is to make it easy to find your affiliate links.
That's why It's critical to position your affiliate links above the fold in blog posts and website content. This means that the links should be visible to visitors as soon as they begin to peruse your page in order to increase clickthrough rates.
Besides this, there are a host of other best practices for promoting affiliate links.
Some strategies that can be easily applied to promoting affiliate links are:-
Insert affiliate links in your product reviews and tutorials
Add affiliate links to your resources and tools page
Place affiliate banners on your website
Embed affiliate links into your youtube video
Promote affiliate links on social media and forums
Avoid being salesy.
---
8. Make Use Of Discounts And Coupon Codes
The most common method of doing affiliate marketing is to provide discount codes or promos.
These discounts typically cater to the people or marketers offering them.
This suggests that you could work out a unique arrangement with the manufacturer or business to provide your target market with a special discount.
This further entices consumers to purchase the products and participate in your community.
The best way to persuade viewers to try something they've always wanted to try is by offering discounts.
---
9. Optimize And Track Your Results.
A cookie is placed in the browser of each visitor who clicks on your special affiliate link to track their behavior.
The merchant can record a qualified action when the customer takes it.
So what's a qualified action?
A sale or the generation of leads both qualify as actions. This depends on the guidelines of the program.
The merchant then credits you as an affiliate so that they can get paid.
In addition, you need to monitor your own affiliate content., that is the content you create and publish on your site.
What this does is, enable you to identify what worked well, and where you may make improvements.
By the way, there's another purpose behind this improvement. The simple fact is that future affiliate marketing depends on your ability to satisfy your audience with the most valuable affiliate content.
---
10.Getting Paid For Learning Affiliate Marketing
Okay, once you've learned affiliate marketing, and applied all the strategies to generate sales, it's time for raking in the cash right?
Well, depending on the conditions of the affiliate program, there are various payout models.
The majority of businesses typically distribute commissions on a monthly basis, but this can change based on the conditions of the affiliate program.
When selecting an affiliate program to join, you should be mindful of the compensation structure, which ultimately depends on the objectives you have.
Make sure you are familiar with the commission structure of the affiliate business you are working with.
The commissions can be based on:
1. Each sale or lead-based.
2. A regular commission, or one-time payout.
---
FAQs
Q1. Is there a career in affiliate marketing?
With affiliate marketing, the career, and income potential is limitless. Remember, you are not bound by any legal agreement with any company, therefore you are free to join as an affiliate with several different companies.
The best part is, even if the revenue from each affiliate site is little, the overall revenue could be extremely high.
This way, you can succeed like any great affiliate who makes millions of dollars online if you're ready to put in the effort.
All you need is an audience, high-quality affiliate products to market, and traffic-generating content.
---
Q2.What should a beginner do in affiliate marketing?
One of the simplest methods to start earning money online is by learning affiliate marketing.
In case you're thinking about what to do after learning affiliate marketing, then you need to focus on the critical aspects first.
As a newbie, you should initially concentrate on building a blog with high-quality content.
For that, you need a professional website/ blog. And then apply known methods of driving traffic to the blog.
So here's a brief breakdown of steps for affiliate marketing:-
• Select a niche.
• Decide on a platform.
• Locate related affiliate marketing projects.
• Produce high-value content.
---
Q3.How long does it take to succeed in affiliate marketing?
Affiliate marketing is now viewed as a full-time enterprise rather than a side gig.
It requires patience, persistence, and attention. The fact is that launching any business requires time.
You must conduct market research. Look into your competitors. Determine who your target market is. What their pain points are. Also how you can make their lives better.
The next step is to create your blueprints and plans.
Many people assert that they can do all of this in one to two years. However, realistically speaking it usually takes about three to five years before you start earning well.
---
Q4.How much can I earn from affiliate marketing as a beginner?
If you are just starting out in affiliate marketing, $100k a month could seem like an impossible goal. But people do earn that much.
According to Niall Roche of Authority Hacker, affiliate marketers are divided into four categories:
Beginner – $0 to $1000/per month
Intermediate $1000 to $10,000/per month
Advanced – 10k to $100k/per month
Super Affiliate – $100k+/per month
---
Q5.Can I do affiliate marketing while studying?
There are several examples of students doing well in affiliate marketing. They met success when their affiliate business suddenly took off, after earning very little money for a very long period.
The key is choosing the ideal niche and strategy.
---
Q6.What should you avoid in affiliate marketing?
Making mistakes with affiliate marketing is rather common.
However, you want to avoid the common errors that greenhorn affiliate marketers make.
Here are some obvious mistakes in affiliate marketing that you can avoid :
1. Not really knowing what you're selling.
2. Not testing and comparing tools and products
3. Engaging in uninteresting niche work
4. Making selling more important than serving.
5. Putting out poor-quality content.
6. Enrolling in an excessive number of affiliate programs.
---
Related Posts
9 Crucial Secrets About Affiliate Marketing Known To Successful Bloggers
The 6 Easiest Strategies To Leverage Affiliate Marketing On The Internet (2022)
Is Blogging Still Profitable For Affiliate Marketing?
Best Practices In Promoting Affiliate Links (For Increased Earnings)
---
Conclusion
When you're wondering about "what to do after learning affiliate marketing" the smartest move is to get practical with affiliate marketing fast.
Remember the best way to monetize your website is through affiliate marketing. It also generates extra revenue for you in the long term.
Regardless of your sector or niche, affiliate income is a flexible source of income that you can use.
However, having a product that you are familiar with is crucial.
Hence, to begin with, choose a product or service that you think will be pertinent to the subject of your blog. And in any case, it must benefit your audience as well.
Ultimately my advice is to avoid being overly aggressive when selling a product.